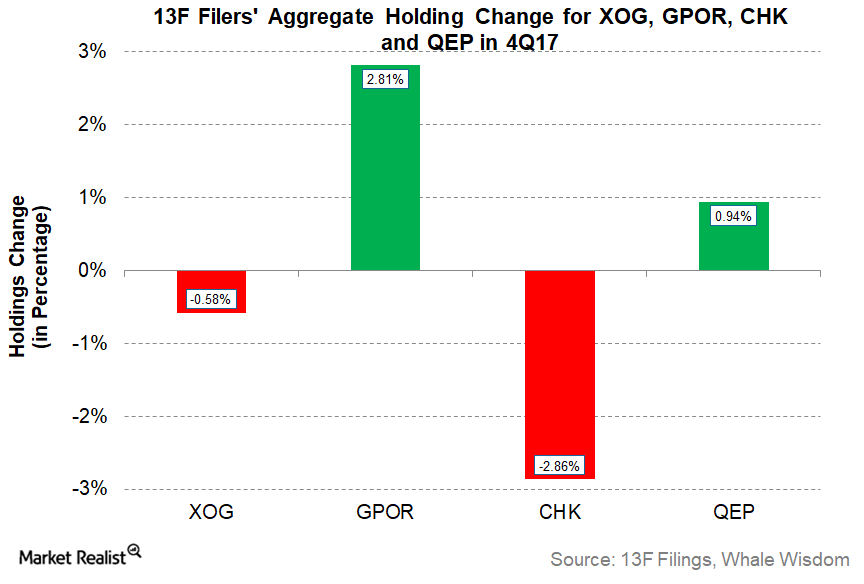 Institutional Investor Activity in XOG, GPOR, CHK, and QEP
By Nicholas Chapman

Apr. 9 2018, Updated 9:02 a.m. ET
13F filers' statistics for Extraction Oil & Gas
In 4Q17, 90 funds were "buyers" of Extraction Oil & Gas (XOG) stock, while 46 funds were "sellers" of the stock. In 4Q17, the total buying funds outnumbered the total selling funds by 44. As of December 31, 2017, 143 13F filers held Extraction Oil & Gas in their portfolio. Seven filers have Extraction Oil & Gas among their top ten holdings.
Looking at the aggregate number of shares, 13F filers decreased their aggregate Extraction Oil & Gas holdings 0.58% or from 153.41 million shares to 152.52 million shares in 4Q17. As of December 31, 2017, Extraction Oil & Gas had 173 million common shares outstanding.
Article continues below advertisement
13F filers' statistics for other stocks
13F filers reduced their aggregate holdings in Chesapeake Energy (CHK) 2.9% from 580.54 million shares to 563.95 million shares in 4Q17.
In contrast to Extraction Oil & Gas and Chesapeake Energy, international investors bought Gulfport Resources (GPOR) and QEP Resources (QEP) stock in 4Q17. 13F filers increased their aggregate holdings in Gulfport Energy and QEP Resources 2.8% and 0.94%, respectively.
Form 13F is an SEC mandate that has to be submitted by all of the institutional investors who manage more than $100 million in assets. These institutional investors typically include hedge funds, insurance companies, banks, and investment advisors who have access to in-depth research and greater capital. Usually, when institutional investors buy a stock, there's a chance that the stock might do well.