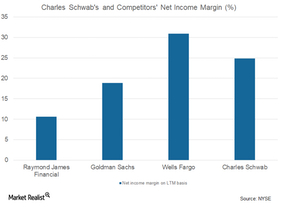 Why Charles Schwab's Returns Could Be Lower Going Forward
By Raymond Anderson

Mar. 28 2018, Updated 9:01 a.m. ET
Long-term horizon
Charles Schwab (SCHW) is of the view that its returns with respect to bonds and stocks could be lower for the next ten years compared to its historical averages. The company's management even stated that global stocks would be giving higher returns compared to US stocks during the same period.
Charles Schwab expects these lower returns primarily due to higher valuations and lower inflation. However, lower interest rates could also be a primary contributor.
Article continues below advertisement
The company expects US large-cap stocks to deliver 6.5% annually in the next ten years (from 2018 to 2027), whereas from 1970 to 2017, these stocks delivered a 10.5% annualized return. Moreover, from 2018 to 2027, international large-cap stocks are expected to deliver 7.2% annually, reflecting a higher return compared to US large-cap stocks.
Beneficial for investors
According to Charles Schwab, in order to achieve long-term financial goals, investors need to make financial plans. Hence, the need for expected market returns arises, as if expectations fall short, it would be difficult to incur huge costs. On the other hand, pessimistic expectations could negatively affect the cost of living.
According to the forecasts, the US economy is expected to witness GDP growth of 2.1% annually from 2018 to 2027 after considering the new changes made in the tax law.
Charles Schwab's net income margin stands at 24.8%, and its peers (XLF) Raymond James Financial (RJF), Goldman Sachs (GS), and Wells Fargo (WFC) have net income margins of 10.6%, 18.9%, and 30.9%, respectively, on a trailing-12-month basis.