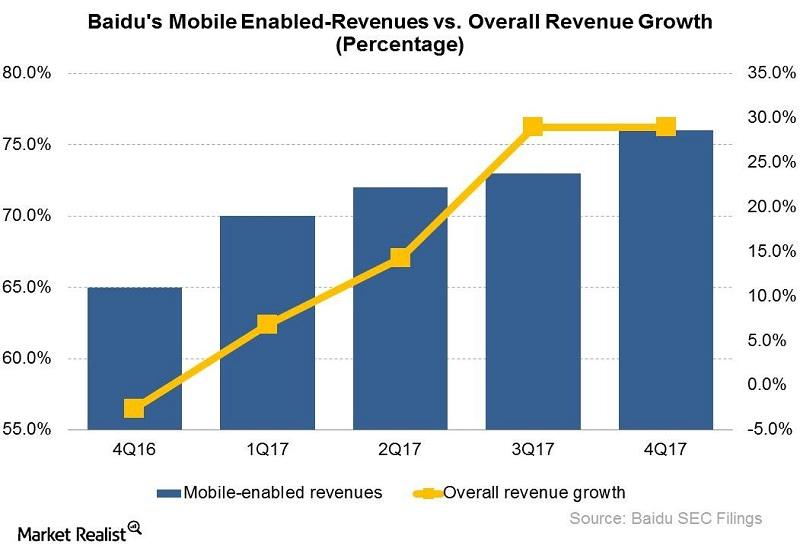 How Baidu's Mobile Strategy Is Affecting Its Growth
By Neha Gupta

Mar. 7 2018, Updated 1:30 p.m. ET
Shift to mobile and accelerating growth
Baidu (BIDU) and its digital advertising counterparts such as Facebook (FB) and Alphabet's (GOOGL) Google are booking more and more of their revenues on mobile devices. For Google, however, booking most of its revenue on mobile is coming at a cost. The company has been reporting rising traffic acquisition costs (or TAC) because it relies on mobile for the bulk of its advertising revenue.
Baidu booked 76% of its total revenue on mobile in 4Q17. Mobile represented 65% of the company's revenue a year ago in 4Q16.
Article continues below advertisement
Looking at the last five consecutive quarters, the rising profile of mobile as a piece of Baidu's revenue has been accompanied by accelerating revenue growth. Baidu's revenue growth accelerated from 6.8% YoY (year-over-year) in 1Q17, when mobile represented 70% of revenue, to 14.3% YoY in 2Q17, when mobile represented 72% of revenue. The 29% YoY revenue growth it recorded in 3Q17 came when mobile represented 73% of revenue.
Cheap handsets and data drive smartphone uptake and usage
Falling smartphone prices and competitive mobile data plans due to competition among telecommunications companies are fueling the uptake and usage of smartphones. Marketers are responding to this trend by funneling more of their advertising budgets to mobile platforms, and digital advertising providers such as Baidu, Facebook, Tencent (TCEHY), and Alibaba (BABA) are benefiting, as can be seen in their rising mobile revenues.
Advertising going mobile in China
In China, Baidu's domestic market, mobile is expected to account for 82% of all digital advertising budgets and 60% of all media advertising budgets by 2021, according to eMarketer.