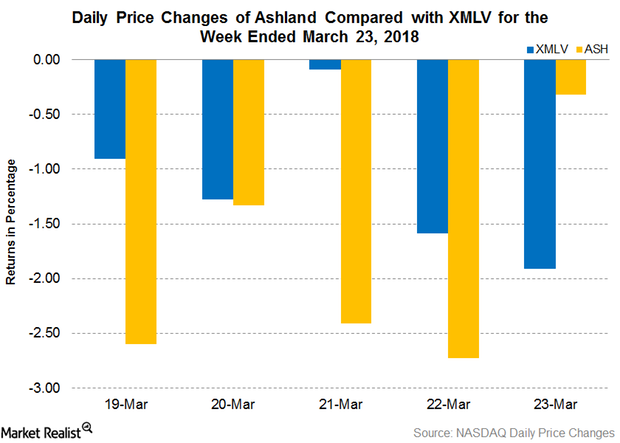 Ashland Increases 1-4 Butanediol Prices in the EMEA Region
By Peter Neil

Mar. 26 2018, Updated 8:09 a.m. ET
Ashland's latest product price increase
On March 21, 2018, Ashland (ASH) announced that it will increase the prices of 1-4 butanediol and derivatives. The price increase will be effective immediately or as the contract allows. The price increase will impact the EMEA (Europe, the Middle East, and Africa) region. On March 9, Ashland announced the price hikes for 1-4 butanediol and other several derivatives in the Americas region.
Below are the list of products and price changes:
Ashland will increase the price of 1-4 butanediol by 100 euros per metric ton.
Ashland will increase the derivative prices including THF, NMP, BLO, and 2-Pyrol by up to 200 euros per ton.
Article continues below advertisement
The price increase could drive Ashland's revenue up—assuming that the volumes don't decline. The impact of the price increase will likely be more visible from fiscal 3Q18. Ashland reported sales of $842 million in fiscal 1Q18—an increase of 20% on a year-over-year basis. The revenue was impacted positively due to several price increases since the beginning of 2018.
Ashland's stock price
Ashland's stock price fell for the week with a decline of 9.1% and closed at $67.96. The decline pushed the stock to trade 4.6% below the 100-day moving average price of $71.25, which indicates a trend reversal. On a year-to-date basis, the stock extended its decline to 4.6%. Ashland's 14-day relative strength index of 37 indicates that the stock isn't overbought or oversold.
Ashland underperformed the PowerShares S&P MidCap Low Volatility Portfolio (XMLV), which declined 4.5% during the same period. XMLV has invested 1.1% of its portfolio in Ashland. XMLV also provides exposure to Brown & Brown (BRO), Westar Energy (WR), and Rollins (ROL) with weights of 1.5%, 1.3%, and 1.2%, respectively, on March 23, 2018.