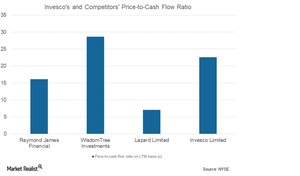 Analyzing Invesco's Total Assets under Management
By Raymond Anderson

Mar. 5 2018, Updated 9:01 a.m. ET
Equity and fixed income
As of December 31, 2017, Invesco's (IVZ) total assets under management (or AUM) stood at $937.6 billion. Of the total AUM, the equity asset class contributed $431.2 billion, while fixed income has contributed $225.8 billion. In equities, the company witnessed long-term inflows of $29.7 billion and long-term outflows of $29.2 billion in 4Q17, which resulted in the net long-term inflow of $0.5 billion.
Article continues below advertisement
In 4Q17, of the total equity class contribution towards Invesco's total AUM, $11.8 billion was due to the favorable momentum in the markets. During the same period, the company's fixed-income asset class saw long-term inflows of $13 billion, while long-term outflows were $12.4 billion, resulting in net long-term inflows of $0.6 billion.
Balanced money market and alternatives
Of Invesco's total AUM at the end of December 31, 2017, the balanced category contributed $57.7 billion, while money market and alternatives contributed $78.7 billion and $144.2 billion, respectively. In 4Q17, the balanced category saw long-term inflows and outflows of $3.9 billion and $2.5 billion, respectively.
In 4Q17, the money-market category saw long-term inflows of $1 billion, which were completely offset by the long-term outflows of the same amount. In this category, net outflows from institutional money market funds were $3.3 billion in 4Q17.
The price-to-cash flow ratio of Invesco stood at 22.57x on an LTM (last-12-month) basis, and peers (XLF) Raymond James Financial (RJF), WisdomTree Investments (WETF), and Lazard Limited (LAZ) have ratios of 16.12x, 28.65x, and 7.09x, respectively on an LTM basis.