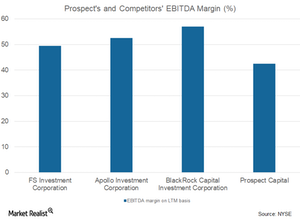 Understanding Prospect Capital's Originations and Repayments
By Raymond Anderson

Feb. 15 2018, Updated 9:01 a.m. ET
Hedging the downfall
Prospect Capital (PSEC) has made first lien, senior, and secured debt a priority in terms of originations because this will help it to hedge downside risk.
The company's approach toward originations and credit selection has helped it to generate higher yields than the markets.
In fiscal 2Q18, Prospect's total repayments were higher than its total originations. Its total originations stood at $738.7 million, while its total repayments stood at $1.0 billion in the quarter. Thus, its net repayments were $303.5 million. The company witnessed a fall in its total structured credit investments from $969.4 million in fiscal 1Q18 to $940.2 million in fiscal 2Q18.
Article continues below advertisement
Originations
In fiscal 2Q18, Prospect Capital made originations in the following structures:
Agented Sponsor Debt: 56%
Non-Agented Debt: 32%
Operating Buyouts: 1%
Real Estate: 11%
Online Lending: 0%
Prospect Capital's structured credit portfolios had 2,225 underlying collateral loans and a total asset base amounting to $19.0 billion in fiscal 2Q18. During the same period, the company's structured credit portfolio generated an annualized cash yield of 17% compared to 18.3% in the previous quarter. However, at 43, the company's number of investments was the same in fiscal 2Q18 as it was in the previous quarter.
Prospect's EBITDA (earnings before interest, tax, depreciation, and amortization) margin stands at 42.5% on a trailing-12-month basis. Its peers (XLF) FS Investment (FSIC), Apollo Investment (AINV), and BlackRock Capital Investment (BKCC) have trailing-12-month EBITDAs of 49.5%, 52.5%, and 56.9%, respectively.