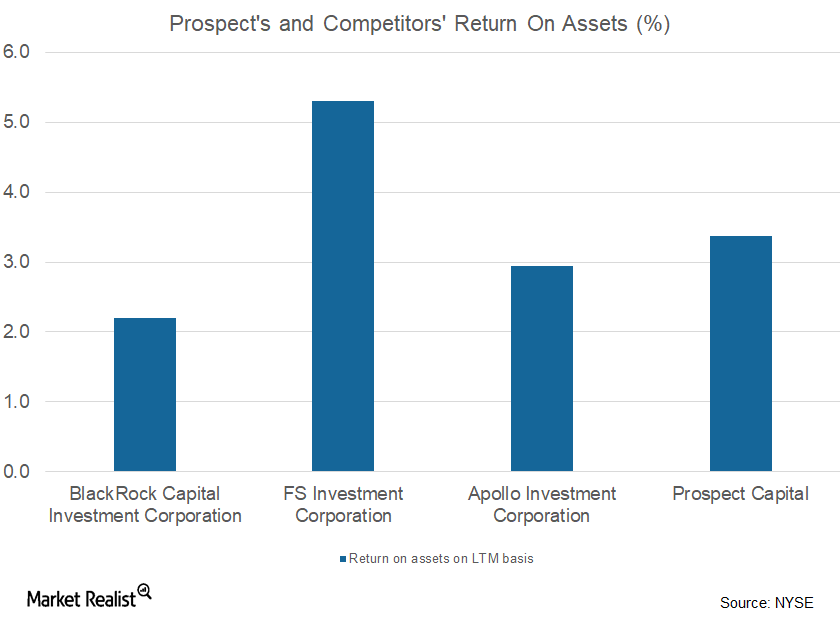 What Does Prospect Capital's Portfolio Look Like?
By Raymond Anderson

Feb. 14 2018, Updated 12:35 p.m. ET
Annualized current yield
Prospect Capital's (PSEC) management has indicated a positive view on the company's future. According to management, a significant amount of opportunities lie ahead for the deployment of dry powder (capital available for investments), and this could improve the company's performance.
Of its total portfolio, Prospect Capital had 37.1% controlled investments at fair value in fiscal 2Q18. During the same period, the company's annualized current yield generated from all its investments stood at 10.3%, while in the previous quarter it stood at 9.9%. However, the company's annualized current yield from debt investments stood at 12.5% in fiscal 2Q18, while in fiscal 1Q18 it stood at 11.8%.
Article continues below advertisement
Inside PSEC's portfolio
In fiscal 2Q18, Prospect Capital's total investments at fair value stood at $5.4 billion compared to $5.7 billion in the previous quarter. Its portfolio consisted of 122 companies in fiscal 2Q18 compared to 120 companies in the previous quarter. The company has equity holdings in some of these investments, which could help it improve its yields and could also contribute to its capital gains.
In fiscal 2Q18, Prospect's fair value asset class investments were as follows:
Secured First Lien: 44.6%
Secured Second Lien: 21.3%
Structured Credit: 17.3%
Unsecured Debt: 0.6%
Equity Investments: 16.2%
Small Business Whole Loans: 0%
Prospect's return on assets stands at 3.4% on a trailing-12-month basis. Peers (XLF) BlackRock Capital Investment (BKCC), FS Investment (FSIC), and Apollo Investment (AINV) have returns on assets of 2.2%, 5.3%, and 3.0%, respectively, on a trailing-12-month basis.