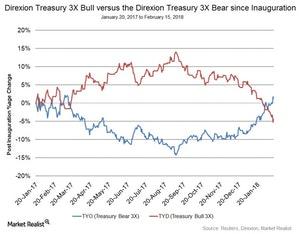 Looking Ahead at the Second Year of Trump's Presidency
By Direxion

Feb. 28 2018, Updated 4:16 p.m. ET
Repercussion of the tax bill: Higher rates
The ten-year Treasury rate actually fell for the first eight months of the President Trump administration, even with higher inflation and better growth. It really only took off after the tax bill passed, hovering around 2.9% as dollars flooded individuals' pockets to some degree and corporations' pockets to a much larger degree. Economists continue to predict higher inflation and short-term interest rate hikes throughout 2018 and 2019. But if growth slows or inflation cools off, we could see rates come back down. Either way, Direxion has you covered again with TYO (3x Bear) 7–10 year Treasury and TYD (3xBull).
Higher interest rates, in and of themselves, aren't necessarily bad. But they do affect highly sensitive interest rate industries, like utilities and real estate, in an outsized way.
Article continues below advertisement
Conclusion: Year 1 for President Trump was positive in the market—Year 2 is from a higher base
Now that we're a year into this presidency it's obvious that the market likes some of what it sees—at the very least. But we can't predict how long these trends will stay in place. There are good reasons to expect more of the same, at least through the midterm elections, in terms of policy. But when will investors start to fear change and place their bets another way?
2018 should be an interesting year. It has been so far, with the 10%+ correction. Direxion gives you the tools to invest in all types of market conditions and assumptions.
Market Realist
Are more rate hikes coming?
The strengthening economy and steady job numbers forced the Fed's hand last year, and it raised the interest rate. Economists expect that rising inflation and a tight labor market will lead the Fed to hike interest rates this year as well. It has hinted at three rate hikes this year. However, rapidly increasing rates could harm more than benefit since they could affect specific areas of the financial sector. The Direxion Daily 7–10 Year Treasury Bear 3X ETF (TYO) and the Direxion Daily 7–10 Year Treasury Bull 3X ETF (TYD) are choices to consider with fluctuating rates.
Article continues below advertisement
With 80% of the companies reporting earnings for the fourth quarter 2017, the blended YoY (year-over-year) earnings and revenue growth for the S&P 500 stand at 15.2% and 7.9%, respectively. The earnings growth marks the highest since 3Q11, and revenue growth marks the highest since 4Q11, according to a FactSet report on February 16, 2018. It was an overall positive year in 2017 for the sectors, the stock market, and the US economy.
Looking ahead at 2018
As we enter the first quarter of 2018, the projections seem positive. According to a February 16, 2018, FactSet report, analysts are projecting double-digit earnings growth of 17% and revenue growth of 7.4% for the S&P 500 (SPY) (IVV). The numbers paint a very rosy picture for the US stock market.
In an article in Investor's Business Daily, David Joy, chief market strategist for broker and financial advisor Ameriprise Financial (AMP), stated that he expects a 3% growth in US GDP in 2018, led by the added benefit expected from tax reform. He also hopes the Federal Reserve will continue raising rates this year, which is expected to cap earnings multiples for US stocks. Many economists expect that the annual GDP growth will hit the Fed's 3% target this year, driven by a weak dollar, rising oil prices, and a strengthening global economy. More rate hikes, higher inflation, and better job numbers could add to economic growth.
Will President Trump be able to fulfill his other promises made during the campaign? Will regulatory changes and new reforms boost the economy and the stock market further? Only time will tell. Either way, Direxion is covering it with choices of leveraged ETFs.