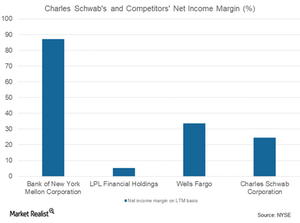 How Did Charles Schwab's November Metrics Look?
By Raymond Anderson

Aug. 18 2020, Updated 5:27 a.m. ET
YoY rise
On December 14, 2017, Charles Schwab (SCHW) announced its numbers for November 2017. At the beginning of November 2017, the company had client assets of $3.2 trillion, and during the month, it saw net new assets of $15.7 billion. These assets came from existing as well as new clients.
The net new assets in October 2017 stood at $35.4 billion, and in November 2016, they were at $11.9 billion. Compared to October 2017, the company saw a marginal rise in the active brokerage accounts to 10.7 million in November 2017.
Charles Schwab posted a net income margin of 24.4% on an LTM (last-12-months) basis. On the other hand, peers (XLF) Bank of New York Mellon (BK), LPL Financial Holdings (LPLA), and Wells Fargo (WFC) posted margins of 87.2%, 5.2%, and 33.7%, respectively, on an LTM basis.
Article continues below advertisement
Favorable market momentum
As of November 2017, Charles Schwab had total client assets of $3.3 trillion. The company saw net gains from the favorable momentum of the markets of $46.6 billion in November 2017, implying a rise from October 2017. Moreover, in November 2016, it saw net market gains of $36 billion.
Charles Schwab posted net buys of $85 million of large-cap stocks in November 2017. During the same month, it saw net buys of $2.3 billion and $371 million in taxable and tax-free bonds, respectively. The company posted net buying of $882 million of mutual funds in November 2017.
In the next article, let's look at Charles Schwab's assets and liabilities.