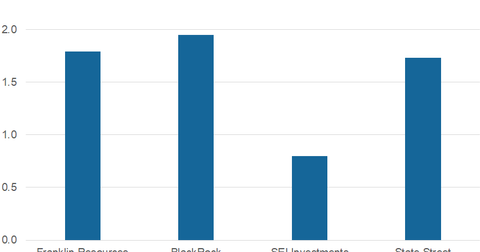 State Street Global Advisors: Positive View on Markets in 2018
By Raymond Anderson

Updated
State Street Global Advisors
State Street Corporation (STT) manages its asset management business through State Street Global Advisors (or SSGA). According to SSGA, the global markets in 2018 are expected to show positive momentum, although the year could favor risky assets. It expects that in 2018, global growth could be 3.7%, which would be helpful for corporate earnings and the equity markets.
State Street Global Advisors believes that opportunities prevail in Europe and Japan. Since more rate hikes are expected in the United States in the coming year, the company has a positive view of cross asset classes, and asset managers are expected to benefit in 2018.
Bond markets
According to State Street Global Advisors, even though investors are viewing equity markets as expensive, positivity in the markets is still expected. However, the company still advises that investors should be very cautious about sector selection.
SSGA has a positive view of Japan on the back of weak currency, declining interest rates, and favorable corporate governance, which could help boost companies' earnings.
On bond markets, State Street Global Advisors also has a positive outlook. It expects that even though the European Central Bank and the Fed are expected to raise interest rates, the rates would still be at a lower level.
State Street's current yield is 1.7%. Peers (XLF) Franklin Resources (BEN), BlackRock (BLK), and SEI Investments (SEIC) have yields of 1.8%, 2.0%, and 0.8%, respectively.