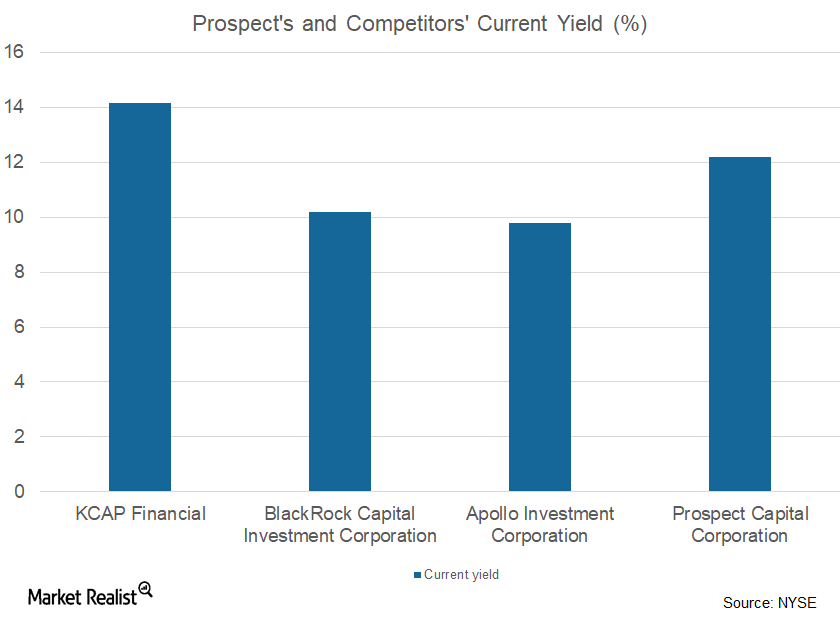 Understanding Prospect's Total Investments
Total investments fell
As of September 30, Prospect Capital (PSEC) reported total investments amounting to $5.6 billion (fair value), a marginal fall from its total investments balance as of June 30.
Out of the total investments of $5.6 billion, non-control investments amounted to $3.7 billion while affiliate investments stood at $17.7 million. However, control investments amounted to $1.9 billion.
Prospect Capital has a current yield of 12.18%. On the other hand, its peers (XLF) KCAP Financial (KCAP), BlackRock Capital Investment (BKCC), and Apollo Investment (AINV) have current yields of 14.16%, 10.18%, and 9.77%, respectively.
Article continues below advertisement
Fall in net income
Prospect Capital has seen a substantial year-over-year and sequential decline in net income in fiscal 1Q18. The company reported net income of $11.9 million in fiscal 1Q18, compared to $81.3 million in fiscal 1Q17. The company reported net income of $51.1 million in fiscal 4Q17.
Compared to fiscal 4Q17, the fall in the net income came on the back of structured credit investments. However, fewer interest-bearing assets in fiscal 1Q18 also contributed to the fall.
In fiscal 1Q18, the company made the following changes to investments in relation to asset classes compared to fiscal 4Q17.
Investments in secured first liens rose marginally from 48.3% to 48.5%.
Exposure to secured second liens rose from 19.1% to 19.5%.
Investments in small business whole loans stood at 0.1%—no change.
Structured credit has fallen to 17% from 18.5%.
Exposure to unsecured debt fell from 0.8% to 0.6%.
Investments in equity are now 14.3%, up from 13.2%.