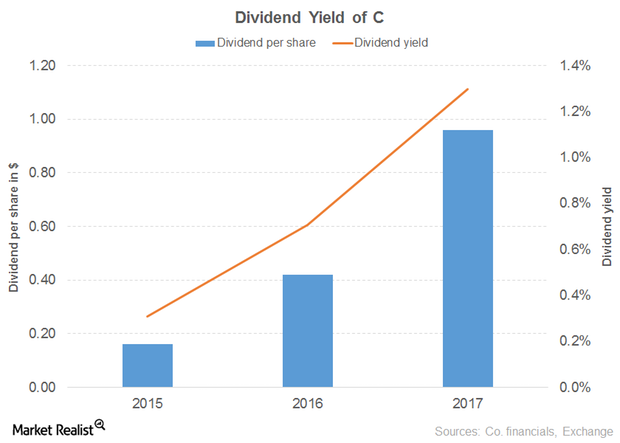 What's Contributed to Citigroup's Upward Dividend Yield Curve
Citigroup's revenue and earnings
Citigroup's (C) revenue rose 3% in the first nine months of 2017. The Global Consumer Banking and Institutional Clients Group segments rose 3% and 10%, respectively, and every geographical region's revenue rose. This rise was offset by a 45% fall in the Corporate/Other segment.
The company's net interest revenue fell 1%, and was offset by a rise in interest expenses. Its non-interest revenue rose 10% during the period, and its operating income rose 8% as its operating expenses remained flat. These ups and downs translated into 13% EPS (earnings per share) growth, which was enhanced by share buybacks. However, the company has noted a negative free cash flow balance YTD (year-to-date), unlike in previous years.
Article continues below advertisement
Citigroup's dividend yield
The 163% growth in Citigroup's dividend per share in 2016 was preceded by the Fed's annual stress test in June 2017, which validated the bank's capital return plan. Citigroup has recorded 129% dividend-per-share growth in 2017. Together, these figures led to an upward sloping dividend yield curve.
Citigroup's stock price has risen 24.6% YTD, compared with 15% in 2016. The company has also announced a significant share buyback plan. The rally of financials led by banks has lost some steam since the immediate post-election period, due to uncertainties associated with the interest rate hike and dismantling of the Dodd-Frank Act.
Citigroup versus broad indexes
Citigroup has a PE (price-to-earnings) ratio of 15.6x and dividend yield of 1.7%, compared with the sector's average PE ratio of 19.9x and dividend yield of 2.2%. The S&P 500 (SPX-INDEX) (SPY) offers a dividend yield of 2.3%, PE ratio of 22.6x, and YTD return of 15.6%. The Dow Jones Industrial Average (DJIA) (DIA) has a dividend yield of 2.3%, PE ratio of 21.1x, and YTD return of 19.1%. The NASDAQ (COMP-INDEX) (ONEQ) has a PE ratio of 25.3x and YTD return of 25.7%.
The Fidelity Core Dividend ETF (FDVV), a dividend fund with exposure to Citigroup, has a 3.7% dividend yield and a PE ratio of 15.5x. The C-Tracks Miller/Howard Strategic Dividend Reinvestor ETN (DIVC) also has exposure to Citigroup.