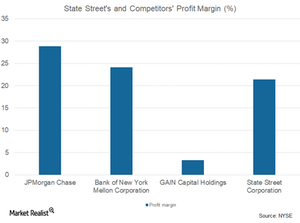 Breakdown of State Street's Assets under Management
Total AUM
State Street (STT) had a total AUM (assets under management) of $2.7 trillion in 3Q17. Of that total, equity contributed $1.6 trillion, which reflects a YoY rise of 16.3%. However, fixed- income, alternative investments, and multi-asset-class solutions contributed $398 billion, $153 billion, and $135 billion, respectively, in 3Q17.
Article continues below advertisement
Geographical contribution
Of the company's total AUM of $2.7 trillion in 3Q17, Asia-Pacific contributed $318 billion. Europe, the Middle East, and Africa (or AEM) contributed $510 billion, while North America contributed $1.8 trillion.
In 3Q17, State Street saw net long-term institutional outflows of $39 billion. In the same period, its AUM saw a market appreciation of $79 billion. In 3Q17, net ETF inflow was $2 billion, while net cash fund flows were $12 billion.
The foreign exchange impact resulted in a flow of $13 billion in 3Q17, which positively affected the company's total AUM.