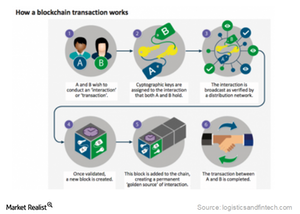 Could Blockchain Technology Impact US Freight Transportation?
Blockchain technology
The supply chain of the global logistics market is often complex, involving many intermediaries in the process. Blockchain offers visibility and minimizes chaos in the supply chain process. With the use of blockchains, merchandise can be delivered much faster and with utmost accuracy.
International Business Machines (IBM) came up with the blockchain concept. Blockchain is like a real-time ledger that updates all the data at a super fast speed. It offers all parties included in the supply chain a secured, synchronized record of transactions. The blockchain ledger records every sequence of the transaction from beginning to end, irrespective of the steps involved in the supply chain.
Article continues below advertisement
Each transaction that occurs is put into a block. Each block is connected to the ones before and after. Groups of transactions are blocked together, and a fingerprint of each block is added to the next. That gives rise to an irreversible chain. The blockchain ledger is distributed and thus acts as a shared form of recordkeeping. No single person or entity has ownership of the blockchain system. As a result, no transaction can be added to the chain without consensus across participants. This leaves no room for blockchain alteration by any person or organization.
How could blockchain disrupt US freight transportation?
Blockchain technologies may be able to save time and money and substantially reduce hassles for carriers, shippers, and drivers. Maersk, the largest shipping company globally, recently tested its management of cargos using IBM's blockchain concept. In a supply chain, there are multiple parties at stake such as customers, transporters, governments, retailers, and manufacturers. With the use of blockchain, the transaction trail should be easy to identify and more trustworthy.
Recently, Morgan Stanley (MS) published a 50-page research paper on blockchain transaction growth in the US transportation industry (XTN). The company foresees the elimination of some of the intermediaries such as C.H. Robinson Worldwide (CHRW) and Echo Global Logistics (ECHO) in the logistics industry due to adopting blockchain technology. However, this technology could benefit asset-based truck companies such as Schneider National (SNDR) and XPO Logistics (XPO).
Technologies are catching up fast in the US logistics sector, whether it's on the asset side or process oriented. Since this will need a scale of operations, the highly fragmented trucking industry might witness consolidations in the near future.