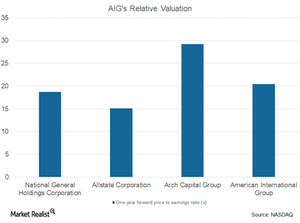 How AIG's Valuation Compares after 3Q17
Discounted valuation
AIG's lower valuation is mainly due its significant catastrophe losses of $3 billion in 3Q17 and its earnings per share of -$1.22. Over the last 12 months, AIG's price-to-book ratio has been 0.76x. Peers (XLF) Allstate (ALL), National General Holdings (NGHC), and Arch Capital Group (ACGL) have ratios of 1.6x, 1.1x, and 1.4x, respectively.
Article continues below advertisement
Lower investment income
AIG's net investment income fell to $3.4 billion in 3Q17 from $3.8 billion in 3Q16, mainly due to lower investments in fixed maturity securities, alternatives, equity securities, and other investments, and higher investment expenses. In 3Q17, AIG incurred investment expenses of $136 million, compared with $115 million in 3Q16.