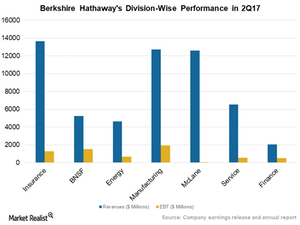 Berkshire Hathaway's Repurchases Could Rise on More Cash Reserves
By Robert Karr

Sep. 29 2017, Updated 10:38 a.m. ET
Shareholder payouts
Berkshire Hathaway (BRK.B) continues to follow the policy of no dividends and share splits. The company has only recently engaged in repurchases of its stock, considering lower valuations and an excess cash pile. Berkshire's ability to outperform the broader index (SPY) (SPX-INDEX) and generate strong operating cash flows has resulted in cash reserves. In the absence of major acquisitions, Berkshire has decided to return some capital in the form of buybacks.
In the first half of 2017, Berkshire generated operating cash flows of $26.6 billion compared to $15.3 billion in the prior year, reflecting its ability to generate ~$50.0 billion in 2017, forming half of its current cash reserves.
Given Warren Buffett's style of investing, if the company doesn't find good investment opportunities over the longer term, it could consider more buybacks.
Article continues below advertisement
Building management team
Future deployments, management, and return generation will also depend on how upcoming managers Todd Combs and Ted Weschler consider offerings, investments, and payout options for the company. Berkshire's filing doesn't disclose the name of managers alongside investments made. Asset managers (XLF) BlackRock (BLK) and Blackstone (BX) are always on the lookout for talented managers for managing existing as well as new offerings and funds.
Berkshire's total assets on the balance sheet as of June 30, 2017, were $665.6 billion compared to $620.9 billion as of December 31, 2016. That reflects higher inflows through premiums and the appreciation of holdings and businesses.