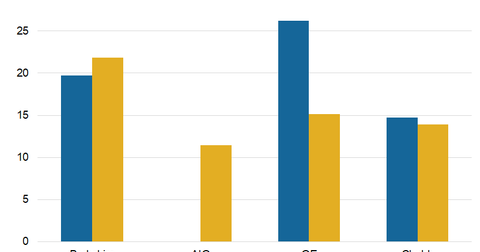 Understanding Berkshire's Premium Valuations amid Stable Growth Expectations
By Robert Karr

Updated
Recent outperformance
As of August 2017, Berkshire Hathaway (BRK.B) stock has risen 4.2% in the past month and 21.2% in the past year. By comparison, the S&P 500 (SPX-INDEX) (SPY) has fallen 1.2% in the past month and risen 12.7% in the past year.
In the June quarter, Berkshire saw an 11% decline in operating profits to $4.1 billion due to underwriting losses in insurance and subdued profitability in its Energy and Services division. These were partially offset by a strong recovery in shipments for BNSF and high growth in the manufacturing space.
Berkshire's competition has been mainly with asset managers like BlackRock (BLK) and Blackstone (BX) and with industrial corporations in the acquisition of new companies. The company's business model employs a mix of conglomerates and active asset management.
Article continues below advertisement
Valuation premium widens
On a one-year forward PE (price-to-earnings) basis, Berkshire is trading at 22.2x, while its peers are trading at an average of 14.2x. As of June 30, 2017, Berkshire's equity portfolio was valued at $162 billion, compared with $163 billion as of March 31, 2017. In 2Q17, its major holdings had the following performances:
Buffett's strong track record and the recent strong operating performance of Berkshire Hathaway have led to higher valuations for the company.
The stock's current price level doesn't provide any major bargain on valuations in the current scenario, but investors could add the stock at lower prices or declines. Growth in upcoming years will also be determined on how quickly Berkshire can make its liquidity of ~$100 billion work through investments.