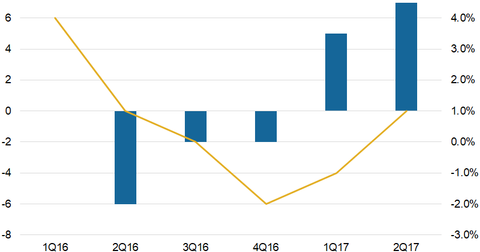 BlackRock's Retail Division Adds Assets
By Robert Karr

Updated
Retail division adds assets
BlackRock's (BLK) retail business has seen a rebound in inflows over the past couple of quarters after investors consistently withdrew from active offerings in equities and deployed more money to ETFs and index funds. The company manages AUM (assets under management) of $587 billion, making up 10% of the company's total AUM, on June 30, 2017. The company's retail division has attracted flows mainly through globally diversified offerings and various investment categories.
Article continues below advertisement
In 2Q17, the division's long-term retail inflows stood at $6.5 billion, including international inflows of $3.5 billion and domestic inflows of $3.0 billion. Fixed income offerings attracted $7.1 billion, which were deployed toward municipal, total return, and unconstrained categories. These offerings were partially offset by outflows of $0.6 billion in equity offerings from Europe and the United States. The trend is the opposite of what we've seen for iShares, reflecting that investors are placing bets on equities through the iShares platform.
The multi-asset category saw an outflow of $0.1 billion, mainly from world allocation strategies, reflecting lower traction toward the diversified asset class. Retail investors are resorting to advisory, theme-based investments, compared to active fund management and multi-asset investments.
BlackRock reported operating income of ~$4.6 billion in 2016. Other players in the industry posted the following numbers.
State Street (STT): $3.6 billion
Bank of New York Mellon (BK): $6.4 billion
JPMorgan Chase (JPM): $40.8 billion
Together, these companies make up 2.2% of the SPDR S&P 500 ETF (SPY)(SPX-INDEX).
AUM rise consistently
BlackRock's AUM from its Retail division grew by $23 billion in 2Q17, thanks to inflows of $6.5 billion, portfolio appreciation of $10.8 billion, and a favorable currency impact of $5.2 billion.
The division's total base fees rose to $819 million in 2Q17, compared to $784 million in the previous quarter. The fees accounted for ~31% of the company's total in 2Q17, which was unchanged from the previous quarter. Retail clients have also been active participants in BlackRock's ETF offerings. The division has seen subdued growth in new flows toward equities.