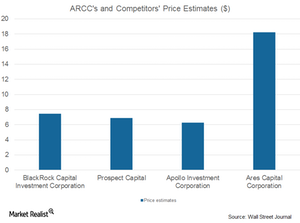 Ares Capital's Purchase of Loans from SSLP
Purchase made
Ares Capital Corporation (ARCC) has made a big move by purchasing the remaining loans from SSLP, or Senior Secured Loan Fund, LLC. Ares Capital has purchased a loan portfolio valued at $1.6 billion, consisting of first lien senior secured loans.
Coming to the internal rate of return (or IRR), Ares Capital generated an IRR of 20% since inception. The loan portfolio that the company has purchased from SSLP yields ~7.1%, which would improve the earnings of Ares Capital. According to Ares Capital's management, this transaction could benefit Ares Capital shareholders in the long term.
Article continues below advertisement
Acquisition of American Capital
Ares Capital's top management seems to have a positive outlook on the acquisition of American Capital (ACAS), which the company completed in January 2017. In 2Q17, Ares Capital sold assets of American Capital valued at $210 million.
With the sale of these assets of American Capital, Ares Capital generated ~$21 million of net realized gains. On June 30, 2017, the portfolio's fair value was $2.1 billion.
Price estimates
Within one year, Ares Capital Corporation (ARCC) stock is expected to reach $18.21, reflecting a rise of ~11.0% from its current price. On the other hand, the one-year price target of other investment management companies (XLF) are as follows: