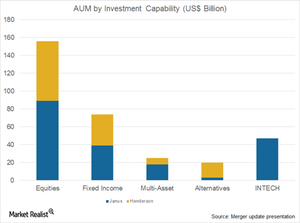 Janus Capital, Henderson Group: Complementary Business Advantage
Future prospects
Apart from being the active asset manager globally, the merged entity of Janus Capital Group (JNS) and Henderson Group (HGG) will help accelerate the twin strategic objectives for diversification and growth. The combination has created an asset manager with diverse investment strategies and products. As a result of the merger, the newly formed company has made a global footprint, which will help teams across fixed income securities and equities.
Article continues below advertisement
According to estimates, the combined entity is expected to achieve net new money growth of two to three percentage points more than they could have achieved on a stand-alone basis. Although Janus (JNS) is the United States' leading mutual fund platform but has not been successful in terms of alternative products or international offering, this gap will be filled by Henderson's (HGG) product offerings and performance. On the other hand, the capabilities of Intech can be beneficial for Henderson clients in the United Kingdom and Europe.
EPS accretion
Henderson Group (HGG) will benefit from acquiring Janus Capital (JNS). There will be double-digit accretion in EPS (earnings per share) of both companies in the initial 12 months after the merger. Shareholder value is expected to be delivered by effective cost synergies of $110.0 million, which is expected to be fully realized in 2020. This merger will provide notable short-term financial benefits. The merged entity will be operating a conservative balance sheet, which provides steadiness in various market cycles and will also be highly cash-generative. Management for the combined firm will be retaining a progressive dividend policy, and the payout ratio will be the same as that delivered by Henderson. Across various investment styles, management of the combined group seeks to deliver superior risk-adjusted returns.
Valuation multiple
Currently, Janus Henderson Group (JHG) stock is trading at a premium to alternative asset managers (XLF) such as Ameriprise Financial Services, Affiliated Managers Group, and Apollo Global Management in terms of a price-to-earnings ratio. Janus Henderson's current price-to-earnings ratio stands at 19.43x. Below are its competitors' current price-to-earnings ratios: