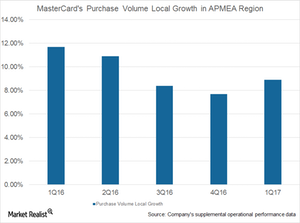 How MasterCard Plans to Expand Presence in Middle East
By Raymond Anderson

Updated
Growth trajectory to continue
MasterCard's (MA) growth trajectory in the Middle East is expected to continue in the upcoming quarters. Management has a positive outlook due to a major shift in the region from cash transactions to digital transactions. Also, Egypt and GCC countries are developing infrastructure to facilitate the move toward a digital economy. Thus, growth in the Middle East is more dynamic in comparison to the rest of the world.
MasterCard's purchase volume growth has also shown an uptrend in 1Q17 as compared to 4Q16 in the APMEA (Asia-Pacific/Middle East/Africa) region. In 1Q17, the purchase volume growth in this region stood at 8.9% as compared to 7.7% in 4Q16.
The company is seeking growth in the Middle East by increasing its purchase volume transactions, and its partners are working to make available necessary infrastructure facilities to facilitate transactions. Management believes that the Middle East region will be a pioneer in innovation.
Article continues below advertisement
If not China, then India
In 2015, China's State Council made regulations that finally made way for Visa (V) and MasterCard to enter the country. However, in 2016, China provided additional guidelines for the two companies. These regulations stated that foreign operated companies must have 1 billion yuan in the local business in registered capital and also must comply with the security standards of the Chinese government.
Though entry in China has been difficult, growth prospects are clearly visible in India's economy on the back of demonetization. As digital payments were the only option, this move has provided MasterCard with a huge opportunity.
Adjusted net income
MasterCard reported an increase in its net income in 1Q17 as compared to 4Q16. In 1Q17, its net income stood at $1.1 billion as compared to $0.9 billion in 4Q16. This growth has been a result of an increase in transactions and volume levels. MasterCard's net revenue has also risen 12% in 1Q17 mainly due to a rise in switched transactions to 14.7 billion on a YoY basis. Also, there was a 13% increase in MasterCard's cross-border volumes. Its peers have reported the following numbers in regards to net income:
Visa (V): $0.4 billion
American Express (AXP): $1.2 billion
Discover Financial Services (DFS): $0.5 billion
These companies form 1.3% of the iShares Core S&P 500 ETF (IVV).