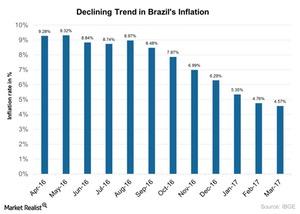 Will Falling Inflation Accelerate Monetary Easing in Brazil?
By Mary Sadler

Nov. 20 2020, Updated 4:51 p.m. ET
Brazil's economy shows signs of improvement
Brazil's (EWZ) economy is showing signs of improvement in 2017, and inflation is hovering around its target rate. Auto production (IOCJY) improved in March 2017 by ~17.0% compared to the previous month. A bumper harvest is also expected to boost agricultural production (HYPMY) in 1Q17.
Considering these positives, the Central Bank of Brazil, while pursuing its easing monetary policy, slashed interest rates a full percentage point to 11.25% in April 2017. Let's look at the inflation rate over the last year in Brazil.
Article continues below advertisement
Inflation in Brazil
As of March 2017, inflation in Brazil stood at 4.6% on a YoY (year-over-year) basis, easing from a 4.8% rise in February 2017. The inflation rate has been continually slowing down for seven consecutive months, and it's now at its lowest level since August 2010. But it has remained slightly above the Central Bank's official target of 4.5%.
Acceleration in monetary easing expected in 2017
The Central Bank of Brazil is expected to cut its benchmark interest rate to single digits by the end of 2017 in order to improve its economic activity. An additional 275 bps (basis points) rate cut is expected to bring the Selic rate, or short-term rate, to the target rate of 8.5% from 11.25% by the end of 2017.
In mid-April 2017, Brazil's inflation rate fell below the government's target for the first time since 2010. It's expected to fall more by the end of 2017. To some extent, this is a victory for policymakers who highlighted the need for low interest rates since October 2016. As of mid-April 2017, consumer prices as measured by the IPCA-15 index have risen 4.4% over the last 12 months.
An aggressive rate-cutting cycle is expected in 2017 since inflation has fallen more quickly than anticipated. Inflation on a yearly basis is expected to fall below the Central Bank's target of 4.5% by the end of 2017 due to the following reasons:
declining food price pressures
moderated oil prices
stronger real
weak domestic demand
Expectations for 2017
With lower interest rates, the Central Bank of Brazil is expected to stimulate consumption. Increased consumption is expected to boost Brazil's consumer sector. The country's largest private bank, Itaú Unibanco (ITUB), recently said it would completely pass on a rate cut to its customers using personal loans, overdrafts, or small businesses borrowing for working capital. 
The iShares MSCI Brazil Small-Cap (EWZS), which invests heavily in the consumer discretionary sector, rose about 23.0% in 1Q17. The Global X Brazil Consumer ETF (BRAQ), which provides exposure to a market-cap-weighted index of Brazilian consumer goods and services companies, rose about 16.0% in 1Q17.
For more information on Brazil's economic performance, check out Market Realist's Is Brazil's Economy Back on Track for Recovery in 2017?