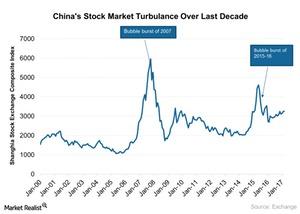 Are There Parallels in China's Stock Market Bubbles?
China's stock market bubble burst repeats in 2015–2016
China's stock market has had large movements over the years, dominated by retail investors. Another unique feature includes the frequent regulatory interventions and restrictions on stock trading. Let's take a look at the performance of the Shanghai Index, one of China's major indexes.
Article continues below advertisement
Retail investor sentiments are driving China's stock market
The bubbles created in China's stock market in 2007 and 2015–2016 show that stocks fell ~65.0% and ~41.0%, respectively. Both bubbles saw stocks fall with the rise in interest rate expectations. During the 2007 bubble, Chinese authorities intervened to curb inflation and reduce speculative activities with borrowed funds. Both bubble periods were driven mainly by momentum rather than fundamentals.
China's securities regulators aim to maintain a stable development of its capital market (FXI) (MCHI). They regulate the flow of funds in the markets in a number of ways to control large movements. Over the years, China's central bank has shoveled cash into state-backed finance companies to prop up stock prices through lending activity to avoid severe market crashes. Both crashes saw government intervention to reduce the losses.
After the bubble burst of 2015, the Shanghai Index slowly recovered from the shock and posted returns of ~9.0% by the end of 2015. It outperformed the S&P 500 Index (SPX-INDEX), which rose ~4.0%. As of 2016, the Shanghai Index has experienced losses of about 12.5% compared to a fall of 0.60% for the Hang Seng Index (HSI-INDEX) in Hong Kong. We'll look at the valuations of the Shanghai Index in the next part of this series.
Now let's look at the reasons for the subdued performance of Chinese markets in 2016:
Retail investors control about 90.0% of the market share, which tends to make the market volatile.
China's growth slowdown has led to an outflow of capital from its markets.
High export reliance has impacted China's reduced global trade.
China's ETFs showed subdued performance in 2016 (FXI) (MCHI). The iShares China Large-Cap (FXI), the largest Chinese ETF listed in the United States, fell about 2.0% in 2016. Some of the companies in its holdings include Tencent Holdings (TCEHY), China Construction Bank (CICHY), China Mobile (CHL), and the People's Bank of China.
In the next part of the series, we'll look at the valuation of the Shanghai Stock Exchange.