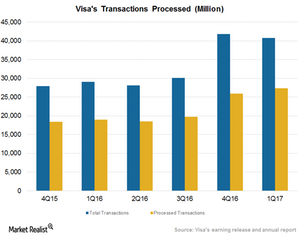 Visa's Transactions Helped by Cross Border, Europe, and Asia
By Robert Karr

Updated
Global transactions
Visa (V) reported a total of 40.8 billion transactions in fiscal 1Q17, compared to 29.0 billion in fiscal 1Q16. That's a rise of 41.0% year-over-year. The rise was mainly due to its addition of Visa Europe and growth in Europe and Asia. Total transactions denote the payments and cash transactions reported for clients on their operating certificates.
Total transaction growth was helped by spending in Europe and Asia and by cross-border transactions. The company saw a 1.0% rise in total transactions due to the rise in oil prices (USO). Visa posted an operating margin of 66.0% in fiscal 2016. The company's peers in the industry posted the following margins in 2015:
Article continues below advertisement
Processed transactions
Visa's processed transactions rose 44.0% in fiscal 1Q17 to 23.7 billion. Excluding the acquisition, the company saw a growth of 13.0%, which was higher than 12.0% in the previous quarter. It saw a rise of 11.0% in US-processed transactions, mainly due to Costco (COST) and USAA. Its international processed transactions rose, mainly due to demonetization in India. In Europe, it saw a stable growth in transactions processed.
Processed transactions denote transactions for Visa, Visa Electron, Interlink, and PLUS cards processed by Visa's networks.
In January 2017, Visa saw a 13.0% rise in US payment volumes on a constant dollar basis. That reflected continued spending helped by new partnerships, rising wages, and lower unemployment. Excluding the Visa Europe acquisition, cross-border volumes rose 13.0%, and processed transactions rose 14.0%.
In the next part, we'll take a look at Visa's data processing and international revenues in fiscal 1Q17.