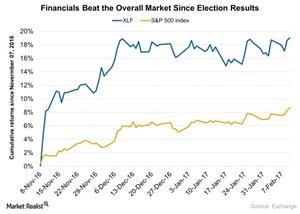 Hyman Bullish on Financials, Investors Upbeat about Rate Hike
By Mary Sadler

Dec. 4 2020, Updated 10:50 a.m. ET
Trump's domestic growth-friendly policies
Returns have been surging for the financial sector (XLF) (VFH) as the market expects to benefit from the Trump administration's projected policies. Markets are highly confident with the expectation of more rate hikes, for example, and of widespread deregulation.
Banks' earnings have thus been getting a huge boost, and the market has been bullish on economic growth, despite the likely increase in inflation and budget deficits that could result from Trump's plans to slash taxes and boost government spending.
Article continues below advertisement
Financials surge
Since November 8, financials (XLF) have gained about 10%, as compared to the market S&P 500 index gain of ~ 8%. Banks, in particular, are expected to perform well in 2017 with the steepening of yield curves. The financial sector is thus currently offering a decent dividend yield.
Notably, the top gainers for the first week of February include Regions Financial (RF), Invesco (IVZ), Comerica (CMA), and Prudential Financial Inflation Retail (PRU). Earnings release reports have helped the surge in these shares.
The Fed and interest rates
According to Ed Hyman, who's particularly bullish on Trump's policies, the Fed will likely take a gradual path toward more interest rate hikes as they follow broader market indicators. Hyman believes the likelihood of interest rate hike in next month is very low, as some indicators still need to meet FOMC (Federal Open Market Committee) targets. FOMC's most important target includes "maximum employment" and an inflation target of under 2%.
Article continues below advertisement
Surging markets
Markets (SPY) (QQQ) have surging anyway on the expectation of another interest rate hike soon. The Fed increased the federal funds interest rate for second time in ten years in December as the economy showed the signs of improvement at the end of Obama administration policies.
The FOMC meeting in December indicated that the labor market and economic activity had expanded at a moderate pace, and the job employment numbers had also stayed close to the target. Household spending and consumer sentiment were also rising at a steady pace.
Inflation rate
So far, however, the inflation rate has been below 2% target rate, and the increase in the Fed rate had been held back as inflation was below its target estimates. The committee is expected to monitor the actual and expected progress in the inflation rate, wages, and unemployment rate as March approaches.
According to Hyman, the Fed is likely to increase the rates this year, though he's not sure if we'll see three hikes, as expected by the market. The current situation seems to be transparent, and a March hike is not likely in the cards.