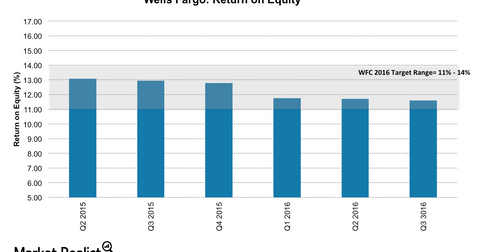 Why Wells Fargo Might Still Be the Best in the Business
By Rebecca Keats

Updated
Wells Fargo is one of the most profitable banks
Wells Fargo (WFC) has had a volatile year. The bank's shares tanked in September following a fake account scandal but then rebounded by more than 20%. In December, the bank's shares (XLF) touched a fresh 52-week high as the bank gained in the post-election rally. Despite the recent scandal, Wells Fargo remains one of the most profitable large banks in the United States. Currently, Wells Fargo's return on assets and equity are higher than those of peers Citigroup (C), Bank of America (BAC), and Goldman Sachs (GS). Also, in terms of risk management and efficiency, Wells Fargo is superior to peers.
Article continues below advertisement
Although the fraudulent account scandal has tarnished Wells Fargo's image, some experts believe this may not impact the bank's financials much, as the two million fake accounts were not adding any real revenue for the bank. In fact, it was a cost for the bank to pay out incentives to employees for meeting sales targets. Additionally, some expect the bank's earnings to be impacted by changes in its cross-selling practices.
Warren Buffet, Wells Fargo's largest shareholder, has not sold any shares of the bank after the scandal. He still believes Wells Fargo is an "incredible institution" and has faith in the bank.