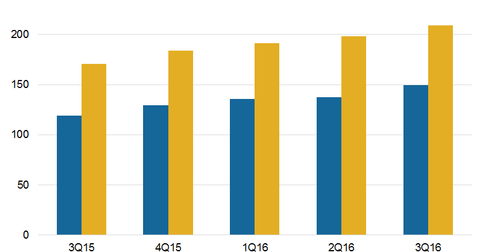 Schwab's and E*TRADE's Banking Models Are Complementary
By Robert Karr

Updated
Banking business
In the first nine months of 2016, Charles Schwab (SCHW) added 55,000 new accounts to make a total of 1,088,000 accounts. The bank's balance sheet expanded to $165.2 billion on September 30, 2016, a YoY (year-over-year) rise of 28%. Its net interest revenue expanded due to the addition of new assets.
Schwab reported net interest revenue of $845 million, compared to $635 million in 3Q15. Schwab doesn't utilize its banking structure for client acquisitions. Instead, the company's banking structure is used to support its trading and wealth management activity.
Article continues below advertisement
E*TRADE
E*TRADE Financial (ETFC) operates a federally chartered savings bank called E*TRADE Bank. This model is similar to Schwab's. The bank offers its clients FDIC (Federal Deposit Insurance Corporation) insurance on a certain amount of deposits. On an individual basis, the bank generated net interest income of $287 million in 3Q16, compared to $249 million in 3Q15. Its net interest margins may have risen due to expectations of an interest rate rise by the Federal Reserve in 4Q16.
Gradually, E*TRADE wants to shift its clients from other banks to its own by way of marketing efficiency and ease of trade. The company aims for a deposit base of $50 billion under its existing structure.
IDAs and spread balances
TD Ameritrade's (AMTD) spread-based revenue has risen due to its higher insured deposit accounts (or IDAs) and stock lending. The company's spread-based balances averaged $111 billion in 3Q16. Its major focus is on maintaining strong organic growth and investing in new technologies and regions.
In 3Q16, its revenue rose 2% to $381 million, mainly due to higher IDAs and interest-earning assets. The company's average yield on IDAs fell to 1.03% from 1.11% in 2Q16 and 1.09% in 3Q15.
Interactive Brokers (IBKR) also managed to improve its interest revenue in 3Q16. Brokerage companies (XLF) have benefited substantially from interest revenues resulting from deposits in their banking models.
In the next article, we'll look into the adequacy ratios and fee-based assets of various brokers.