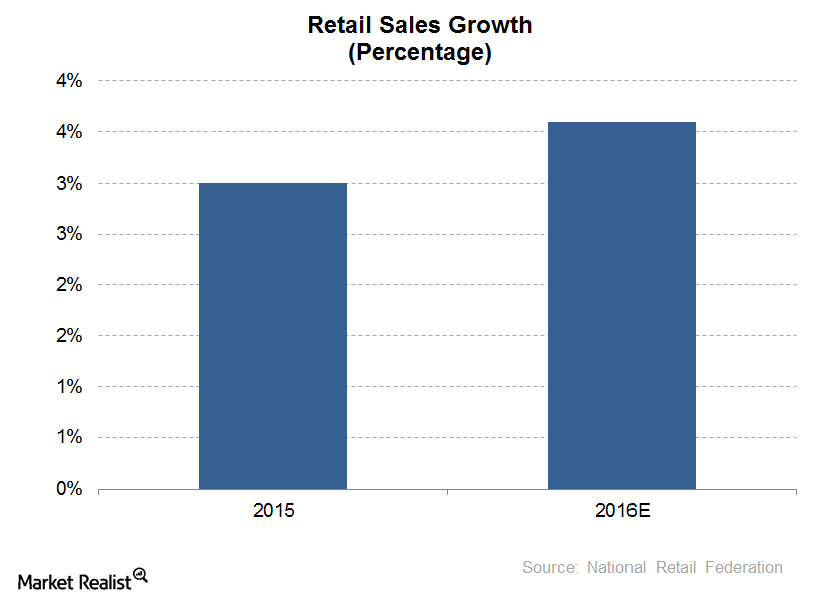 The Future of Retail: Reading Macy's Disappointing Holiday Sales
Macy's and Kohl's each report 2.1% declines in holiday sales
Macy's (M) registered weak holiday sales, even though analysts expected stronger retail sales for 2016 than the company saw in 2015. According to Macy's, its November and December comparable store sales fell 2.1% from the same period a year earlier.
But Macy's isn't the only retailer that struggled to attract shoppers to its stores during the holidays. Kohl's (KSS) also reported weak sales in November and December, with comparable store sales falling 2.1% relative to 2015, forcing the company to trim its profit guidance for the current year.
Macy's has responded to the challenging retail environment by announcing plans to lay off more than 10,000 of its workforce and shrink its retail footprint by closing dozens of stores.
However, the National Retail Federation estimates that retail sales actually rose 3.6% in 2016, surpassing the 3% gain in 2015. Lower fuel prices and higher wages are believed to have supported higher retail spending in 2016 as consumers had more disposable income.
Article continues below advertisement
Retail spending shifting to online
But why are Macy's and Kohl reporting weak sales and issuing warnings about the future when 2016 was supposed to be a great year for retailers? It turns out that while the retail sector is growing, much of the growth is happening online.
According to a MasterCard (MA) survey of retail spending, e-commerce spending rose 19% during the 2016 holidays, but overall retail spending rose only 4%. These metrics indicate that the future of retail moving online and legacy retailers such as Macy's, Kohl's, Wal-Mart Stores (WMT), and Sears (SHLD) are now forced to catch up with e-commerce trends or risk shedding more customers to Internet rivals like Amazon.com (AMZN).