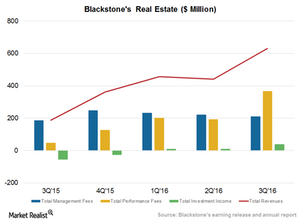 Blackstone Leads in Real Estate Performance among Alternatives
By Robert Karr

Jan. 5 2017, Updated 7:36 a.m. ET
Real estate
Alternatives deploy a sizable portion of their portfolios toward real estate and development projects. The real estate space has outperformed compared to most other asset classes.
Alternative asset managers (IYF) have seen portfolio appreciations in the range of 3%–5% over the past couple of quarters, mainly due to improving fundamentals and rising wage incomes.
Among alternatives managers, Blackstone (BX) has been a strong and consistent performer in the real estate space, mainly due to strong liquidity, a strong network, and access to global markets. The company reported a 234% rise in its real estate division's revenue in 3Q16 over the prior year's quarter. Its revenue rose to $630 million from $188 million.
The company's 3.7% rise in carry fund valuation during the quarter led to higher performance fees. The real estate division's core funds' carrying value rose 2.9%. Blackstone manages $102 billion in its real estate division, of which its fee-earning assets stand at $65.8 billion.
Carlyle and KKR
The Carlyle Group (CG) also invests in the real estate space. The company registered a 4% rise in its portfolio valuations in 3Q16. Its real estate division includes real estate, natural resources, and legacy energy. The division could see similar returns in 2017 as the broader economy improves and wage income rises in and outside of the United States.
On the other hand, KKR & Co. (KKR) invests in real estate through Real Estate Partners Americas and Real Estate Partners Europe. On September 30, 2016, the company's real estate holdings formed 11% of its total portfolio.
Apollo Global Management (APO) also managed to achieve growth in its real estate holdings in 2016. The company saw a rise of 16.3% during the year, reflecting higher-than-average returns.
In the next part of the series, we'll see how the rebound in oil prices could affect alternative asset managers in 2017.
Article continues below advertisement