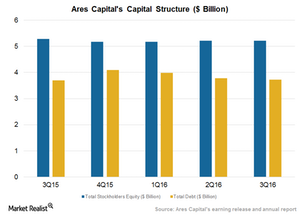 Why Closed-End Funds Are Deploying Higher Leverages
By Robert Karr

Dec. 6 2016, Updated 9:35 a.m. ET
Consistently leveraged
Closed-end funds have been deploying leverage in bids to take advantage of near-zero interest rates following the 2007 financial crisis. Companies are earning spreads by borrowing and investing money in high-return asset classes. 
The Federal Reserve raised rates for the first time in six years in 4Q15. The Fed is expected to raise rates once again in 4Q16. This could lead to some revival in the costs of funds, which could be positive for closed-end funds with less leverage on their books.
Article continues below advertisement
Ares Capital's (ARCC) net debt-to-equity ratio fell to 0.71x in 3Q16, compared to 0.73x in 2Q16. This leverage is in line with the company's target of 0.65x–0.75x. ARCC's debt-to-equity ratio is expected to be marginally higher in 4Q16 due to the company's acquisition of American Capital (ACAS) and net new originations, partially offset by a halt in stock buybacks to support inorganic expansion.
BlackRock and Prospect
In comparison, BlackRock Capital Investment (BKCC) commands premium valuations, mainly due to its subdued leverage. The company had net leverage of 0.54x on September 30, 2016, marginally higher than the previous quarter's 0.52x.
Prospect Capital (PSEC) has kept its leverage higher in order to take advantage of low interest rates. The company's fiscal 1Q17 net debt-to-equity ratio rose to 76.3% compared to its fiscal 4Q16 ratio of 69.5%. PSEC's leverage rose due to higher deployments and investments. Prospect repaid $167.5 million in convertible notes at maturity in August 2016.
Recapitalization
Closed-end funds (PEX) are refinancing their existing debt offerings so as to reduce their effective rates of interest. In 2Q16, Apollo Investment (AINV) completed a recapitalization of equity in order to provide liquidity and balance sheet strength in the wake of higher losses on investments. The company's net leverage ratio, including the impact of cash and unsettled transactions, stood at 0.63x at the end of September 2016.
Continue to the next article for a look at who's paying the most in dividends.