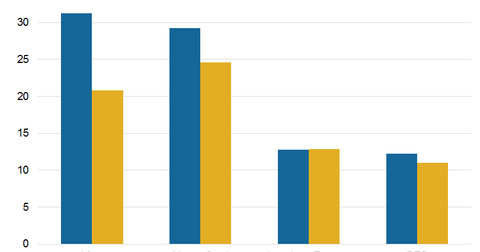 Understanding Visa's and MasterCard's Higher Valuations
By Robert Karr

Updated
Valuations
Visa (V) is trading at 20.5x on a one-year forward earnings basis, which is higher than the industry average. The company has been commanding premium valuations over the past few years on a strong brand, high growth, diversified portfolio, and improved technology. It's also well positioned to take advantage of developed and developing world market stories by having a global presence.
Visa's performance has remained strong due to its payment volumes and new partnerships with Costco Wholesale (COST) and USAA. Visa's operating cash flow stood at $5.6 billion in fiscal 2016. Its operating margins for the year expanded to 66%.
MasterCard (MA) is trading at 24.6x on a one-year forward earnings basis—higher than Visa and other industry peers. The company has commanded a premium due to its global brand, new partnerships, diversified earnings, and higher operating margins.
MasterCard's Client incentives are expected to be higher in upcoming quarters as the company penetrates China and other competitive countries. It plans to target payments through mobile phones and digital wearables.
Article continues below advertisement
Processors trading at lower valuations
American Express's (AXP) stock has risen by 1.8% during the past year and by 20% during the past quarter, reflecting buying at current valuations as well as the expectations of strong performance. The company is currently trading at a one-year forward price-to-earnings ratio of 12.7x, as compared to the industry average of 19.5x. The discount has declined in recent months on better-than-expected performance.
American Express's valuations are still lower than those of peers due to the non-renewal of select partnerships, weak domestic earnings, and high restructuring charges.
Discover Financial Services (DFS) is also trading at a low price-to-earnings multiple of 11x due to its higher leverage and lesser brand presence.
Notably, payment processors (DIA) as an industry, in general, are valued at a premium compared to the broader market and other diversified financials due to their high margins and sustainable business models.
In the next and final part of this series, we'll look at payment processors' strategies for expansion and growth.