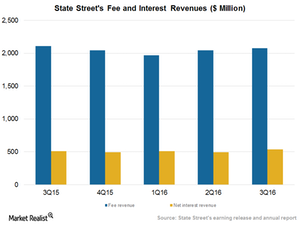 State Street Has Higher Fee Revenues on ETFs, GE Asset Management
By Robert Karr

Updated
Fee revenues
State Street (STT) reported total fee revenues of $2.1 billion in 3Q16, a rise of 2.0% compared to the previous quarter. Servicing fees rose 5.2% to $1.3 billion in 3Q16. Management fees rose 25.6% to $368.0 million. The rise was attributed to new assets from the acquisition of GE Asset Management, market appreciation, and fund flows toward ETFs.
Securities finance revenues fell 12.8% to $136.0 million in 3Q16 due to subdued currency volatility and client-related volumes. Trading services fees remained at $267.0 million in 3Q16 compared to the previous quarter.
State Street reported EBITDA (earnings before interest, tax, depreciation, and amortization) of $3.6 billion in 2015. Let's compare that to EBITDA for the company's competitors:
BlackRock (BLK): $4.7 billion
JPMorgan Chase (JPM): $40.8 billion
Bank of New York Mellon (BK): $6.4 billion
Together, these companies form 1.8% of the SPDR S&P 500 ETF (SPY).
Article continues below advertisement
Net interest revenues
State Street posted net interest revenues of $537.0 million in 3Q16. That's a rise of 3.0% compared to 2Q16. The rise was primarily due to the impact of higher US federal fund rates and disciplined liability pricing. The company continued to reposition its investment portfolio in a bid to garner higher interest.
State Street's revenue mix consists of only 21.0% in interest income, which means that 79.0% comes from other fee incomes that have no direct relation to interest rates. Interest rates are expected to rise further in 4Q16, which can help improve the net interest margin.
The company's net interest margin, including balances held at the Federal Reserve and other central banks, remained at 114 basis points in 3Q16 compared to the previous quarter. However, it rose 14 basis points compared to the prior year's quarter.