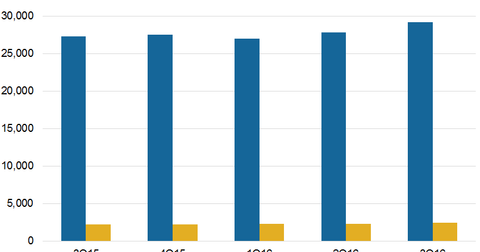 State Street Adds Assets through ETFs, PIMCO, GE Asset Management
By Robert Karr

Updated
Custody and administration
In 3Q16, State Street (STT) saw a rise to $29.2 trillion in assets under custody and administration. That's a 5.0% rise compared to $27.8 trillion in the previous quarter. The rise was seen mainly in insurance, collective funds, mutual funds, and pension products.
The company added $212.0 billion to new servicing commitments across all sectors and geographies during the previous quarter. It has installed $500.0 billion of new assets as of September 30, 2016.
Article continues below advertisement
PIMCO reappointed the company for investment manager services outsourcing in support of assets totaling $1.6 trillion. State Street, subject to a definitive agreement, has agreed to provide PIMCO with accounting, custody, fund administration, and transfer agency services for $140.0 billion in offshore assets. State Street services 75.0% of its total assets in the United States, 20.0% in Europe, and the remaining in the Asia-Pacific region.
State Street's assets under management were $2.4 trillion in 3Q16. Let's compare that to revenues for State Street's peers:
JPMorgan Chase (JPM): $1.7 trillion
Bank of New York Mellon (BK): $1.7 trillion
BlackRock (BLK): $4.5 trillion
Together, these companies form 1.8% of the SPDR S&P 500 ETF (SPY).
ETFs attract funds
State Street also engages in asset management for its institutional and retail clients. Its AUM (assets under management) rose to $2.4 trillion in 3Q16. That was a 6.3% rise compared to $2.3 trillion as of September 30, 2015. Compared to 3Q15, assets rose 11.0%.
State Street continued to attract capital in its ETF offerings, adding $12.0 billion over the previous quarter. The company saw institutional and cash fund outflows of $15.0 billion and $33.0 billion, respectively. Those figures were more than offset by market appreciation of $67.0 billion and $112.0 billion, respectively, through the acquisition of GE Asset Management (or GEAM). Management believes the company saw outflows from low fees attracting assets under management.