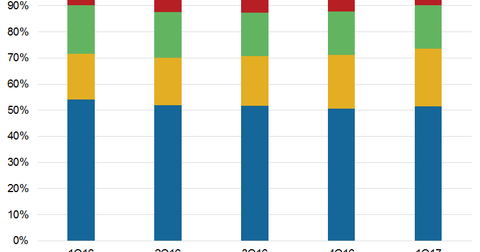 Prospect's, Ares's Originations Rise, BlackRock's, Apollo's Fall
By Robert Karr

Updated
Originations ticking up
The availability of credit has led to higher competition among investors and closed-end funds (PEX) seeking better investment options. Companies have had multiple options for equities and debt offerings, resulting in lower fund costs and better valuations for offloading stakes.
These changes have led to lower originations over the past few quarters. Net originations have also been negative, mainly due to the shifting of portfolios by closed-end funds in efforts to garner higher bids with slightly riskier investments.
Article continues below advertisement
Prospect Capital (PSEC) made portfolio investments of $347 million in fiscal 1Q17, a substantial rise from its $53 million investment in fiscal 4Q16. These funds were deployed in multiple follow-on investments as well as new investments. They were originated mainly through third-party sponsored deals, syndicated debt, and online lending.
Prospect Capital's exits in the form of repayments, sales, and scheduled amortization payments totaled $114 million in fiscal 1Q17. The company's net investments totaled $232.8 million.
In comparison, Ares Capital (ARCC) made new investment commitments totaling $1.53 billion. The company's exits in terms of repayments, selling, or other exits totaled $1.50 billion during the same period, reflecting net investments of $30 million.
BlackRock and Apollo Investment
BlackRock Capital Investment (BKCC) invested $43.8 million in 3Q16. Its sales, repayments, and other investment exits totaled $76.8 million during the quarter, resulting in $29.8 million of net exits.
Meanwhile, Apollo Investment (AINV) made total investments of $127.6 million in the September 2016 quarter and exited $215 million worth of investments, resulting in net investment exits of $87.4 million. BlackRock and Apollo Investment have yet to see reversals in their trends of net investment exits.
On the deployment front, Ares Capital and Prospect Capital are investing more in second-lien lending and structured lending to improve their yields. Let's study this further in the next article.