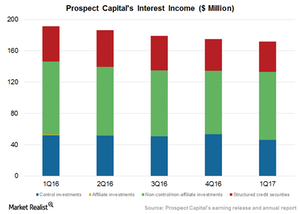 How an Interest Rate Hike Could Impact Closed-End Funds
By Robert Karr

Updated
Interest rates
Closed-end funds (PSP) have seen their spreads improve in 2016 due to a marginal rise in rates. The ability of closed-end funds to transfer rises in fund costs amid high competition will determine whether net interest margins will improve over the next few quarters.
The carried interest model generates profitability when interest rates are low and are deployed at markups by fund managers for higher returns.
Fund managers are expected to reduce their leverages in the wake of rising interest rates. Closed-end funds have kept their leverages in check in recent quarters due to the expectation of an interest rate hike. These changes could impact companies' credit ratings, investment capabilities, and new fundraising capabilities.
Balance sheet
Prospect Capital (PSEC) is strengthening its balance sheet and, therefore, its capital position in order to take advantage of lower valuations during volatile times. The company seeks to raise capital by engaging in a partial or full disposition of its subdivisions, including online lending and structured lending.
In fiscal 1Q17, Prospect managed higher net originations, mainly due to improved liquidity and investment opportunities. The company has invested more than $350 million in new strategies, which form part of its advanced investment pipeline. It's structured credit and real estate businesses continue to garner strong yields.
Ares Capital (ARCC) has expanded its portfolio by entering into a definitive agreement to acquire American Capital (ACAS). However, closed-end funds with high leverages, including Apollo Investment (AINV) and United Rentals (URI), have focused on replacing their high-cost debt with lower costs in order to bring stable returns to shareholders.
Now let's study the earnings expectations of BlackRock Capital Investment, Prospect Capital, and Ares Capital going forward.
Article continues below advertisement