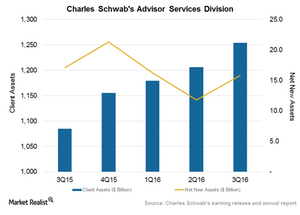 Charles Schwab Managed New Assets in Advisor Services
By Robert Karr

Updated
Advisory Services segment
Charles Schwab's (SCHW) Advisory Services segment had total assets of ~$1.4 trillion as of November 30, 2016. It was an 8.0% rise on a year-over-year basis, reflecting a strong shift in the retail space toward professional fund management services.
The segment posted total client assets of $1.3 trillion in 3Q16, reflecting a 13.0% rise over 3Q15 and a 4.0% rise over the previous quarter. The assets formed approximately 46.0% of the company's total assets.
As broad markets improve in the current scenario, brokers and asset managers are expected to add more assets as well as valuations of holdings. These positive changes can lead to higher fees and interest income for brokerage firms.
In 3Q16, clients in Advisor Services added assets totaling $15.8 billion compared to $11.8 billion in the previous quarter. Schwab provides trading, custodial, and support services to independent investment advisers under this segment. It also offers retirement business services to independent retirement plan advisors. The division invests in online or virtual advisory programs, resulting in higher client assets dedicated to the advisory division.
Here's how a few of Schwab's peers in the brokerage industry have performed in terms of net profits during the past fiscal year:
E*Trade Financial (ETFC): $293.0 million
TD Ameritrade Holding (AMTD): $787.0 million
Interactive Brokers Group (IBKR): $459.0 million
Together, these companies make up 1.4% of the Vanguard Financials ETF (VFH).
Product offerings
In its Advisory Services segment, Schwab grew its vendor participation through its Open View Gateway platform, resulting in an integration between custody and portfolio management systems. The company also launched a Cybersecurity Resource Center in a bid to offer advisers information and tools in a bid to strengthen and maintain cybersecurity programs.
Charles Schwab also held its annual Compliance Solutions Conference in 12 cities to introduce the company's technology and resources to independent advisers to help them serve clients better.
Article continues below advertisement