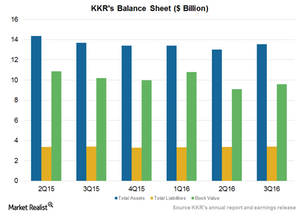 BX and CG Yields Are Highest among Alternative Asset Managers
By Robert Karr

Dec. 16 2016, Updated 9:05 a.m. ET
Shareholder payouts
Alternatives have usually paid 40%–60% of their earnings in dividends. Their earnings have fallen from peaks in the first half of 2015. However, there has been an improvement in valuations and performance over the past couple of quarters. The dividends have fallen on an absolute basis. However, fund managers have maintained their yields in the range of 4%–10%. Improved markets and liquidity have led to higher realizations and distributions.
Article continues below advertisement
Blackstone's (BX) shareholder dividend was $0.41 in the September quarter. The dividend translated to an annualized yield of 6.5%, a fall of 16% over the previous year's dividend. The company managed distributable earnings of $593 million in 3Q16 on the back of $350 million in net realized performance fees.
The Carlyle Group (CG) also saw a fall in dividends per share to $0.50 in the September quarter compared to $0.56 in the prior-year quarter. This figure translated to an annualized dividend yield of 12.9%. On a quarter-over-quarter basis, the company saw lower distribution and carry fund valuations.
KKR (KKR) has altered its dividend distribution policy with a fixed dividend of $0.16 per common share in a quarter. The figure translates to an annualized dividend yield of 4% in 3Q16.
Apollo Global Management (APO) declared a cash distribution of $0.35 per share in the September quarter, an annualized yield of 6%. The company plans to distribute all of its distributable earnings after taxes.
Repurchases
Alternative asset managers (IYF) have enhanced their buyback programs in 2016 on attractive valuations. Carlyle is continuing with its $200 million share repurchase program announced in 4Q15. As of October 2016, KKR bought back 31.5 million common units for $457 million of its announced $500 million share repurchase program in December 2015.
Apollo also announced a share buyback plan of $250 million to be purchased in the current year and next year. As of September 2016, the company repurchased $48 million worth of its own stocks.
Next, let's look at the valuations of these alternative asset managers.