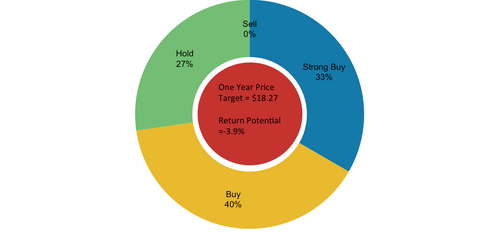 Why Did Deutsche Bank Downgrade Bank of America?
By Rebecca Keats

Updated
Deutsche Bank downgrades Bank of America
Wall Street (SPY) analysts have been bullish on shares of Bank of America (BAC) on prospects of its attractive valuations and an interest rate hike. The bank's earnings have shown tremendous improvement in the last few quarters, leading to several ratings upgrades.
However, in a shocking move last week, analysts at Deutsche Bank (DB) downgraded Bank of America to a "hold" from a "buy" rating and assigned it a target price of $17.5. 
Article continues below advertisement
Deutsche Bank's Matt O'Connor believes that Bank of America is no longer trading at discount valuations. He lowered his target upside for the stock. In a note to investors last week, O'Connor said, "Our $17.50 target price assumes BAC shares trade at a 5% premium to our target group multiple for the Market Sensitive banks of ~11x our 2017E given continued execution on expenses, capital and credit."
O'Connor believes that confidence in the economy is faltering and interest rates will continue to remain low despite chances of a rate hike in December. Investors expect banks to reap huge benefits from rising interest rates and lighter regulations under Donald Trump's presidency. However, lower confidence in the economy and weak capital markets (JPM) are expected to hurt Bank of America.
O'Connor also said, "BAC shares now trade at 11x our 2017e, a slight premium to other market sensitive banks and about 65% relative to the S&P 500." However, the bank's stock is currently trading at a 30% discount to its book value, making it the cheapest among its peers.
In a Reuters survey of 33 analysts, 11 assigned "strong buy" ratings to BAC, while 13 rated it as a "buy." The stock received nine "hold" ratings and no "sell" ratings. BAC has a consensus target price of $18.27, a one-year upside potential of -3.9%.