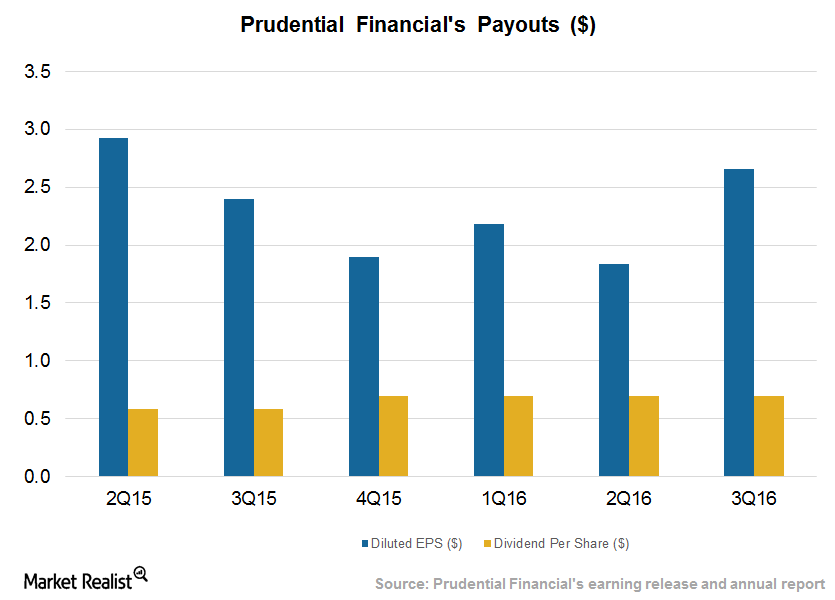 Prudential Rewarded Shareholders with $930 Million in 3Q16
Consistent payouts
Prudential Financial (PRU) has been consistent with dividend payouts to its shareholders. Its dividend payouts have been 20.0%–40.0% over the past few years.
In 3Q16, the company returned $930.0 million to shareholders in the form of dividends and buybacks. That figure is beyond the capital it deployed to support organic growth as well as inorganic options.
Over the past five years, Prudential's dividend has risen by an annualized rate of ~20.0%. In 3Q16, the company paid $309.0 million in dividends and utilized $625.0 million in buybacks. It declared a quarterly dividend of $0.70 per share, which was in line with the previous quarter. It translated to an annualized dividend yield of 2.8% based on current prices.
The company's dividend yield has remained at par with average yields in the insurance business. Insurance companies form 20.7% of the iShares MSCI ACWI (ACWI). The distributions formed 2.1% of the company's total market capitalization of $43.0 billion.
Article continues below advertisement
Boosting repurchase plans
Prudential has increased its share repurchase program from $1.0 billion to $1.5 billion. It has $625.0 million left in authorization for the last quarter of 2016.
Other insurers are also rewarding shareholders through buybacks and dividends. For example, MetLife (MET) continued with its buyback program in 2016, Chubb (CB) will resume buybacks after the ACE acquisition, and Allstate (ALL) made a share repurchase of $250.0 million.
In 3Q16, Prudential acquired 8.1 million shares of its common stock for a total cost of $625.0 million, an average of $77.38 per share.
From the beginning of repurchases in July 2011 through September 30, 2016, the company acquired 83.5 million shares of its common stock at a total cost of $5.8 billion, which is an average price of $69.17 per share.