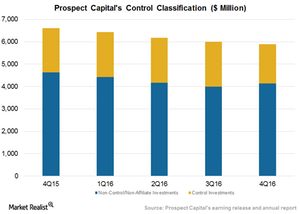 Exploring PSEC's Online Lending and Structured Credit Investments
By Robert Karr

Aug. 18 2020, Updated 6:32 a.m. ET
Select monetizations
Prospect Capital (PSEC) can raise new funds through the select monetization of its existing equity stakes. It can utilize the proceeds for the repayment of its debt, investments into new divisions, and the expansion of its existing lines.
The company's controlled investments fell to 29.7% of its total portfolio in fiscal 4Q16, compared to 33.3% in fiscal 3Q16. It sold its stake in Harbortouch Payments for $328 million.
Article continues below advertisement
Prospect Capital has seen strong growth in originations through its online platform. The company has entered into the online lending business with National Property REIT (or NPRC). Currently, its total business stands at ~$806 million, which has been generated through underwriting platforms and various third-party and captive originations. In fiscal 4Q16, the company generated 25% of its total originations through online lending, reflecting a fall on a quarter-over-quarter basis.
During fiscal 2016, Prospect made 29 follow-on investments in NPRC totaling $243.6 million in a bid to expand its online business. The company has garnered a yield of ~15% through its online business, leading to a rise in its overall margins.
Prospect's peers' earnings per share (or EPS) in the investment management space have been as follows:
United Rentals' (URI) EPS have risen 33.8%.
American Capital's (ACAS) EPS have risen 157%.
CIT Group's (CIT) EPS have risen 78%.
Together, these companies make up 14.4% of the ProShares Global Listed Private Equity (PEX).
Expanding structured credit
Prospect had deployed capital into 38 structured credit investments with an investment value of $1 billion as of June 30, 2016. The company's underlying credit portfolio consisted of 3,031 loans, with a total asset base of $18.5 billion. Its portfolio's default rate fell 60 basis points to 1.4% compared to the broadly syndicated market rate.
In fiscal 4Q16, Prospect's structured credit portfolio generated an annualized cash yield of 22.8%. The portfolio has generated cumulative cash distributions of $695.9 million, forming ~54% of the original investment. Prospect has also exited seven investments totaling $153.6 million, with a realized internal rate of return of 16.8% and a cash-on-cash multiple of 1.4x.
In the next part of this series, we'll study Prospect's balance sheet, leverage, and repayments.