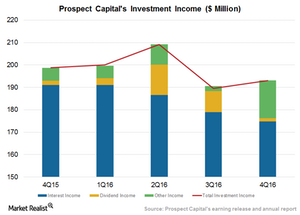 Prospect, BlackRock Lead in Yields among Closed-End Funds
By Robert Karr

Updated
Yields stable
Closed-end funds (PEX) have been boosting their yields by deploying capital in marginally risky asset classes or companies. Prospect Capital's (PSEC) portfolio, for example, generated an annualized yield of 13.2% across its interest-bearing investments in fiscal 4Q16. This was a 0.2% fall from fiscal 3Q16 and a 0.5% rise over fiscal 4Q15.
The company deploys capital in higher-interest-yielding asset classes such as structured credit and online lending.
The market expects yields to contract marginally as the Federal Reserve is expected to raise rates by the end of 2016. In anticipation of this possibility, closed-end funds are deploying capital in higher-interest-yielding asset classes such as structured credit in order to generate higher returns.
Apollo Investment's (AINV) yields stabilized in the June quarter at 11.0% for the full portfolio on a quarter-over-quarter basis. The company's yields have been declining consistently over the past few quarters on a high-risk portfolio. Its yields stood at 11.5% in fiscal 1Q16.
BlackRock and Ares Capital
Ares Capital's (ARCC) weighted average yield in the June quarter stood at 8.9% compared to 9.7% on June 30, 2015, and 9.1% on December 31, 2015. The yields fell mainly due to a decline in the yield on subordinated certificates in SSLP (senior secured loan program) and lower transaction flows in high-yield markets. The company invests in second lien loans to either known or large companies in order to generate higher yields.
In comparison, BlackRock Capital Investment's (BKCC) weighted average yield stood at 11.1% in 2Q16 compared to 11.5% in 1Q16. On a quarter-over-quarter basis, weighted average yield increased 30 basis points. This rise was mostly due to investment in Hunter Defense Technologies, converting from non-accruing debt to equity during the current quarter.
Continue to the next part for a detailed, up-to-date look at originations.
Article continues below advertisement