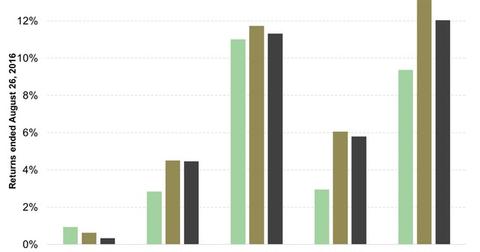 An Ordinary YTD 2016 for the Fidelity Magellan Fund
By David Ashworth

Updated
Performance evaluation of the Fidelity Magellan Fund
The Fidelity Magellan Fund (FMAGX) is in the middle of the pack of 12 funds chosen for this review in YTD 2016 through August 26. In the one-year period, it ranks fifth in its peer group. We have graphed its performance against two ETFs: the iShares S&P 500 Growth ETF (IVW) and the iShares Russell 1000 Growth ETF (IWF).
Let's look at what has contributed to this average performance by the fund so far this year.
Article continues below advertisement
Contribution to returns
The information technology and energy sectors are joint leaders in terms of positive contributions to the Fidelity Magellan Fund's (FMAGX) returns in YTD 2016. Facebook (FB) led the tech stocks, with major contributions coming from Broadcom (AVGO) and FLIR Systems (FLIR). The absence of any negative contributors has worked well for the sector.
Energy stocks form just 7.6% of the fund's assets, but they have emerged as the joint biggest positive contributors. Chevron (CVX), Schlumberger (SLB), and ExxonMobil (XOM) have powered the sector ahead. The absence of any major negative contributors allowed the small positive contributions to add up to a sizable figure.
Industrials have been major positive contributors as well. Huntington Ingalls Industries (HII), Illinois Tool Works (ITW), and United Technologies (UTX) are the main positive contributors from the sector. Southwest Airlines (LUV) is a minor negative contributor.
Healthcare and materials have been the biggest negative contributors to the fund this year so far. Allergan (AGN), Teva Pharmaceutical Industries (TEVA), Regeneron Pharmaceuticals (REGN), and Gilead Sciences (GILD) have weighed the sector down.
However, positive contributions from Boston Scientific (BSX), Medtronic (MDT), Intuitive Surgical (ISRG), and Amgen (AMGN) have boosted the sector. Meanwhile, CF Industries Holdings (CF) has hurt the materials sector the most.
Investor takeaways
There's nothing much to write home about in terms of FMAGX's performance in YTD 2016. The sizable presence of negative contributors in most sectors has ensured that its performance remains in check.
At the same time, the fund manager's stock picks from the energy sector have been impeccable—otherwise, the fund would have fared quite badly. It's important to note the fund's high portfolio turnover. For now, it seems that this is just eating into the fund's returns instead of helping.
In the next article, we'll look at the historical portfolios of the Fidelity Series All-Sector Equity Fund (FSAEX).