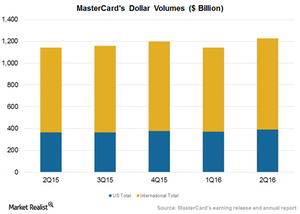 MasterCard's International Dollar Volumes Dominate Growth
By Robert Karr

Sep. 16 2016, Updated 6:04 p.m. ET
Gross dollar volume
MasterCard (MA) posted strong 2Q16 earnings, backed by an 11% rise in global dollar volumes on a constant dollar basis. Its international growth was impacted by the strong US dollar.
International payment volumes rose 13% compared to the 8% rise in US payment volumes on a constant dollar basis. In absolute terms, volumes stood at $1.2 trillion, the company's highest level over the past five quarters.
US growth stable
US dollar volumes expanded on credit and debit growth of 7% and 8%, respectively. The company's payment volume in the US was impacted less than 1% from lower fuel prices. Consumers with improving wages and savings from low fuel prices are expected to divert funds toward loan repayments and retail spending.
MasterCard achieved net profits of $3.6 billion in 2015. Here's how some of its peers in the payment processing industry fared with their net profits in 2015:
Visa (V) – $6.3 billion
American Express (AXP) – $5.9 billion
Fidelity National Information Services (FIS) – $718 million
Together, these companies account for 2.3% of the Technology Select Sector SPDR ETF (XLK).
Article continues below advertisement
International volumes
MasterCard (MA) saw an expansion in its international payment volumes of 13% on a constant dollar basis, a decline of 2% compared with the previous quarter's growth. This was mainly due to spending in Europe, Latin America, Asia, and Africa.
These volumes don't include a domestic co-batched volume that is not processed by MasterCard after the EU regulation that passed in June 2016. These regulations impacted worldwide growth by 1% in the June quarter.
MasterCard's global cross-border volumes rose 10% on a constant dollar basis. This was lower than its volumes' 12% growth in 1Q16.
Next, let's take a look at why MasterCard's processed transactions increased in 1Q16.