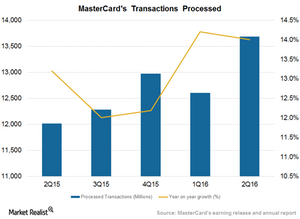 MasterCard Processed Transactions Rise at a Record Pace
By Robert Karr

Updated
Processed transactions
More than 60% of MasterCard's (MA) business comes from its International segment. The company benefits from partnerships, corporate programs, and rebates in Europe and Asia. In 2Q16, MasterCard reported 13.7 billion total processed transactions compared with 12.0 billion transactions in 2Q15.
MasterCard's total transactions represent the payments and cash transactions reported by the company's clients on their operating certificates. Total transactions rose 14% year-over-year. The company's growth has been in line with its 1Q16 results.
Processed transactions include MasterCard, Maestro, and other cards processed on the company's networks. MasterCard also managed 7% growth to 2.3 billion issued MasterCard and Maestro cards.
Operating profit margin
MasterCard (MA) achieved an operating profit margin of 54% in 2015. Here's how some of MasterCard's peers in the payment processing industry fared with their operating margins in 2015:
Together, these companies account for 1.8% of the SPDR S&P 500 ETF (SPY).
International markets
MasterCard saw its growth percentage range from the low double digits to the mid-teens in all regions except for the United States. MasterCard also saw an increase in US rebates and discounts due to partnership renewals. The company is facing stiff competition in the domestic market because consumers are demanding higher discounts and merchants are seeking improved terms.
MasterCard faces competition not only from other payment processors but also from cash and checks. The acquisition of VocaLink was intended to promote the usage of cards and electronic payment systems instead of cash and checks, which account for ~85% of retail payment transactions worldwide. The company believes there is huge potential to attract customers from these standard payment methods.
In the next part, we'll see why MasterCard is targeting international partners for growth.
Article continues below advertisement