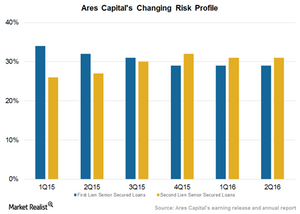 How Declining Yields Are Prompting Changes at Closed-End Funds
By Robert Karr

Updated
Changing composition
Traditionally, closed-end funds (PSP) have focused on middle-market companies with strong credit ratings. However, with declining yields, these funds have begun investing in new avenues for higher growth with low-grade investments and retail investments.
For example, Ares Capital (ARCC) has consistently increased its exposure to second lien senior secured debt. However, in the June quarter, second lien debt comprised only 24% of its new commitments. It also represents 31% of the company's total portfolio.
First lien senior secured loans represent 29%, which is in line with the previous quarter. The exposure to first lien loans has decreased over the past few quarters, from 34% in 1Q15 to 29% in 1Q16.
Article continues below advertisement
Apollo Investment's different strategy
Apollo Investment (AINV) is altering its portfolio in order to have a lower risk profile and lower volatility, as well as to provide a more stable return for shareholders. These actions will deploy a portion of the portfolio into traditional corporate loans—primarily a floating rate directly sourced from the Apollo platform—while adding additional product offerings via mid-caps.
Apollo Investment continues to grapple with loss-making investments and positions taken over the past few quarters. The company expects the situation to stabilize over the next couple of quarters before profits can rise substantially from their current levels.
Prospect Capital's strategies
Prospect Capital (PSEC) deploys investments for the online lending industry. PSEC focuses on near-prime, prime, and subprime consumers, as well as on small business borrowers. The company generated 25% of its origination in the June quarter through online lending. Overall originations fell substantially in the quarter.
In fiscal 2014, the company entered the online lending industry jointly with National Retail Properties, a REIT (real estate investment trust). On June 30, 2016, Prospect Capital's total business stood at ~$806 million across multiple third-party, captive origination, and underwriting platforms. It also focuses on diversifying origination sources for its online business in order to generate more leads.
BlackRock Capital Investment (BKCC) is focusing on traditional corporate debt investments with marginally higher risk.
In the next article, we'll see how these companies have been using varying degrees of leverage.