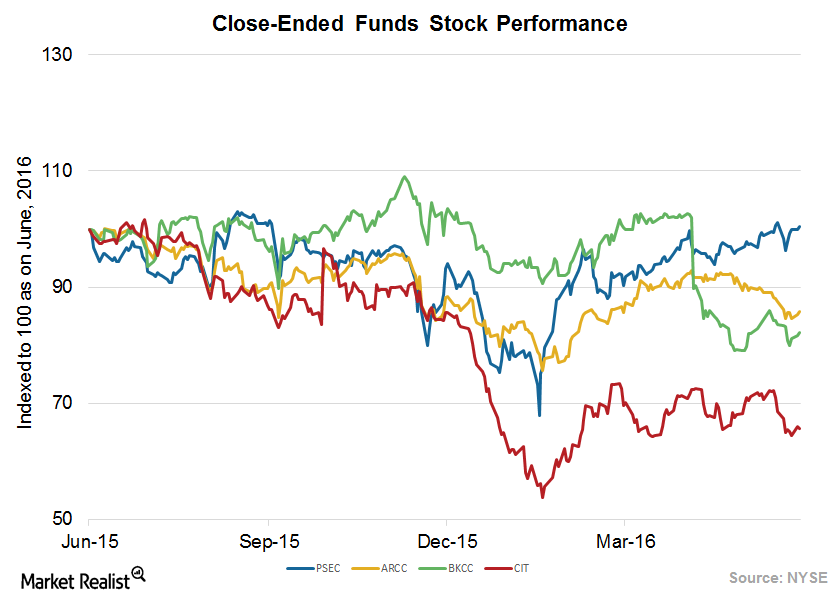 How an Interest Rate Hike Could Impact Closed-End Funds
By Robert Karr

Sep. 21 2016, Updated 4:12 p.m. ET
Closed-end managers
Closed-end asset managers (PSP) are expected to see higher interest costs on their leverage positions if there is a substantial hike by the Federal Reserve by the end of 2016. Portfolio yields are expected to remain stable, as the demand for quality borrowers is high among lenders.
The market can give a premium to those stocks that have low-cost debt or lower leverage on their books.
Closed-end managers also lend to and invest in middle-market, privately held companies by raising capital through issuing shares or equity. These companies include major players like Prospect Capital (PSEC), Ares Capital (ARCC), Apollo Investment (AINV), BlackRock Capital Investment (BKCC), CIT Group (CIT), American Capital (ACAS), and United Rentals (URI).
The performance of closed-end funds is primarily dependent on the cost of capital, as these funds carry higher leverage on the books in order to take advantage of spreads. Their performance also depends on the selection of the right asset classes and companies yielding higher interest incomes.
Article continues below advertisement
June 2016 performance
In the June quarter, Prospect Capital beat Wall Street analysts' consensus net income estimate of $0.25 per share with net income of $0.26 per share. Ares Capital posted EPS (earnings per share) of $0.50, beating Wall Street analysts' estimate of $0.38. Apollo Investment posted EPS of $0.17, missing Wall Street analysts' estimate of $0.19.
Closed-ended funds reward shareholders primarily through dividends that carry yields of 10%–17% and a dividend payout ratio that can be as high as 100%.
Yield expansion
Over the past couple of years, the market has been experiencing some yield compression due to subdued interest rates, deleveraging by companies, and the higher availability of capital. However, as the economic situation improves, yields have benefited from new borrowings, redeployment of funds in structured credit, and retail lending.
In this series, we'll analyze how these closed-end funds have been performing in relative terms. We'll also see how rising interest rates in 2016 could impact these funds' earnings and net interest margins.
Let's start with a look at how closed-end funds have been improving yields.