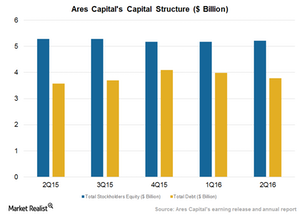 Closed-End Funds Face Leverage Issues as Rate Hike Looms
By Robert Karr

Sep. 22 2016, Updated 11:04 a.m. ET
Deploying leverage
Closed-end funds take advantage of ultra-low interest rates inside and outside the US, which allows them to earn spreads by deploying capital in higher-return asset classes. However, with a second rate hike in the cards, any rate hike would increase the cost of capital for closed-end funds.
Ares Capital's (ARCC) net DE (debt-to-equity) ratio decreased to 0.73x on June 30, 2016. Management had targeted a DE ratio of 0.65x–0.75x. The company is focusing on lowering its cost of debt and maintaining a prudent maturity level for its debt and diverse sources of capital.
Higher net exits in the quarter resulted in lower leverage. These exits were also supported by the halt of repurchases on the acquisition of American Capital (ACAS).
Article continues below advertisement
BlackRock Capital and Prospect Capital
In comparison, BlackRock Capital Investment (BKCC) commands a premium in valuations mainly due to lower leverage. The company had a net leverage of 0.52x on June 30, 2016. However, the company is battling volatility and is shifting its portfolio toward more stable bets.
Prospect Capital (PSEC) has deployed higher leverage to take advantage of low interest rates. Notably, the company's fiscal 4Q16 net debt-to-equity ratio fell to 69.5% from its fiscal 3Q16 debt-to-equity ratio of 73.8%. This was mainly due to its exit from equity investments in Harbortouch Payments.
Lower rates, recapitalization
Closed-ended funds (PEX) are refinancing their existing debt in order to reduce the effective rate of interest. Prospect Capital's (PSEC) cost of debt is approximately 5.5% in contrast to its 2015 cost of debt, which exceeded 6%. PSEC achieved this reduction by repaying certain higher-cost debts and by using its revolving credit facility efficiently.
In the June quarter, Apollo Investment (AINV) completed a recapitalization in order to provide liquidity and balance sheet strength in the wake of higher losses on investments. The company's total outstanding debt stood at $1.1 billion.
AINV's net leverage ratio, which includes the impact of cash and unsettled transactions, stood at 0.66x at the end of June 2016. This compares to 0.75x in the previous quarter. Apollo Investment's debt-to-equity ratio also fell to 0.7x in the June 2016 quarter compared to 0.8x in the June 2015 quarter, reflecting improvement in its capital structure.
Continue to the next part for a look at who's paying the most in dividends.