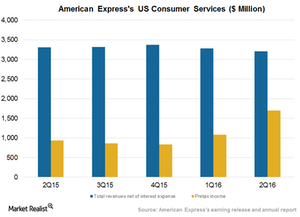 American Express Faces Stiff Competition in the United States
By Robert Karr

Updated
US consumer services
American Express's (or Amex) (AXP) US Card Services segment has had strong competition from local players on the incentives front as well as in striking new partnerships. The segment's revenues have been weak over the past few quarters.
In the June quarter, Amex's US total revenues, net of interest expenses, fell 3% to $3.2 billion in the prior year's quarter. These revenues formed 39% of the company's total revenue compared to $3.3 billion in 2Q15. The decline was mainly due to the reduction in Costco-related revenues from last year as well as an increase in cash rebate rewards.
Article continues below advertisement
The division's net income also changed 74% to $1.1 billion compared to $613 million in the prior year's corresponding quarter. The net included a one-time gain on the sale of the Costco portfolio. The provision for losses decreased by 2% to $237 million, from $243 million a year ago. The decline was due to accounting for certain co-brand loans as "held for sale." That impact was partially offset by higher loan balances, excluding the loans that were held for sale in both periods.
American Express achieved total revenues of $32.8 billion in the last fiscal year. Here's how some of the company's peers in the payment processing industry fared with their revenues that year:
MasterCard (MA): $9.5 billion
Visa (V): $12.7 billion
Discover Financial Services (DFS): $7.6 billion
Together, these companies account for 2.3% of the Technology Select Sector SPDR ETF (XLK).
Initiative spending for partnerships
Total expenses for Amex's Card Services declined 40% to $1.3 billion compared to a year ago. The decrease reflected a portion of the gain from the loan portfolio sale, which was reported as an expense reduction. That gain was offset in part by higher levels of investment spending on growth initiatives and a portion of the previously mentioned restructuring charge.
American Express has increased spending in order to initiate new partnerships. The company was successful in forming partnerships with Charles Schwab (SCHW), one of biggest brokers in the United States, and Sam's Club, the eighth-largest retailer in the United States. The company's expenses also increased due to spending on technology development, marketing and promotion, and higher service costs due to new partnerships.
In the next part of this series, we'll see how a strong dollar led to growth in American Express's international business.