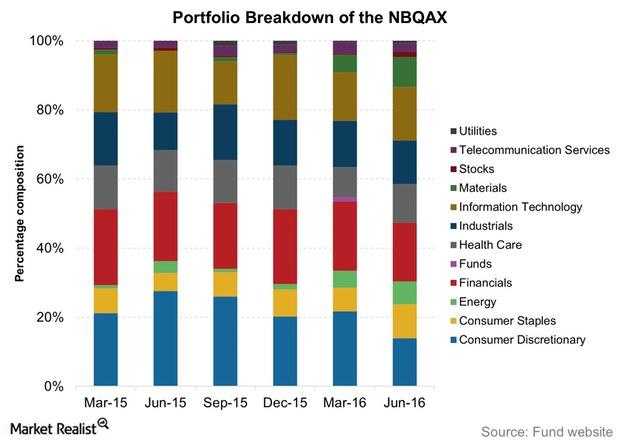 What's the Sector Composition of NBQAX?
By David Ashworth

Aug. 26 2016, Published 5:40 p.m. ET
Nuveen International Growth Fund overview
The Nuveen International Growth Fund invests at least 80% of its assets in non-US stocks. It can invest up to 30% of the portfolio in emerging markets. The fund website says that it adopts "a geographically, economically, and demographically diversified strategy that seeks long-term capital appreciation by investing primarily in non-U.S. equity securities of varying market capitalizations."
The fund management team undertakes the following four-step investment process:
Article continues below advertisement
Themes: What themes will drive global economic change?
Opportunity cluster: What are the goods and services that will benefit from these themes?
Fundamental analysis: What companies are positioned to benefit from evolving trends?
Portfolio construction: How do these companies fit into the overall portfolio?
Portfolio changes in the Nuveen International Growth Fund
Financials is the largest invested sector of the NBQAX, forming a little more than a fifth of the fund's assets. The sector has replaced consumer discretionary at the top spot from our last review. Discretionary has slipped to fourth place. Information technology is second, followed by industrials. These three sectors command 56% of the portfolio.
We've looked at the quarterly portfolios of the MGRAX for the past three years until June 2016. The sectoral allocation of the fund has changed a lot. Its portfolio turnover is off the charts. Sometimes, fund management holds on to a stock for as little as one quarter or less.
In the three-year period until June 2016, the portfolio weight of the consumer discretionary sector has ranged from 10.5% to 27.5%. Financials have formed anywhere between 10% and 22% of the portfolio in the same period. Sectors like materials, telecom services, and utilities have seen periods when all stocks were liquidated and then later re-included among holdings.
Have these quick portfolio moves benefitted the Nuveen International Growth Fund – Class A (NBQAX) in YTD 2016? Let's look at that in the next article.