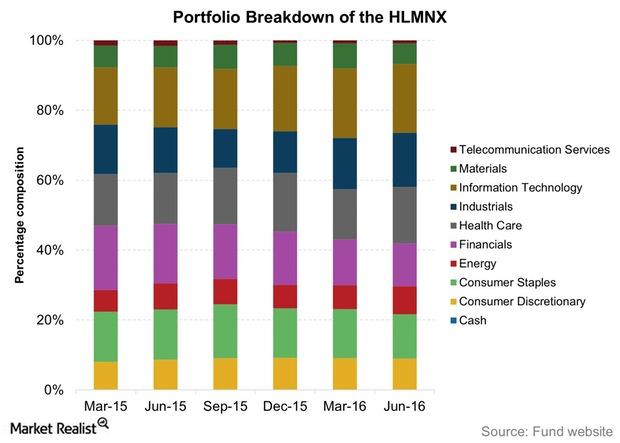 What's the Sector Composition of HLMNX?
By David Ashworth

Aug. 26 2016, Published 5:39 p.m. ET
Harding Loevner International Equity Portfolio overview
The Harding Loevner International Equity Portfolio invests in developed markets except the US and in established companies from emerging and frontier markets. Fund literature states that the fund normally invests in at least 15 countries.
The fund's co-lead managers each create a sub-model portfolio for the International Equity strategy, which are combined to create a single model portfolio. Bottom-up stock selection drives sector and country allocation. In order to keep the volatility of the portfolio under check, the assets are spread across "dimensions of geography, industry, currency and market capitalization." Fund managers, under normal circumstances, will not invest more than 15% of the fund's assets in US stocks.
The fund's assets were spread across 53 holdings as of June 2016, and it was managing assets worth $6.1 billion as of July. As of June, its equity holdings included SAP SE (SAP), Baidu (BIDU), Canadian National Railway Company (CNI), Fresenius Medical Care (FMS), and Grifols (GRFS).
Article continues below advertisement
Portfolio changes in the Harding Loevner International Equity Portfolio
Information technology is the largest sector in HLMNX, forming nearly a fifth of the portfolio pie. Health care is second and industrials is a close third. These three sectors combined form half of the fund's portfolio. The fund is not invested in the utilities sector and has bare minimal exposure to telecom services.
Compared to the MSCI All Country World ex-US Index, the fund is markedly overweight in the information technology and healthcare sectors. It is a bit overweight in the consumer staples, energy, and industrials sectors. On the other hand, it's sharply underweight in the financials, consumer discretionary, and telecom services sectors.
We've looked at the quarterly portfolios of the fund for the past three years until June 2016. Both consumer-oriented sectors have seen their respective shares fall in this period, even as staples continue to outweigh discretionary stocks. Energy stocks have maintained their portfolio weight at ~8%. Industrials and information technology stocks have seen their respective weights increase in the past three years, while financials and materials had initially seen their portions increase, but then fall again.
How has the Harding Loevner International Equity Portfolio – Investor Class (HLMNX) fared in YTD 2016? Let's look at that in the next article.